Year of change
Themes that will shape entertainment in 2023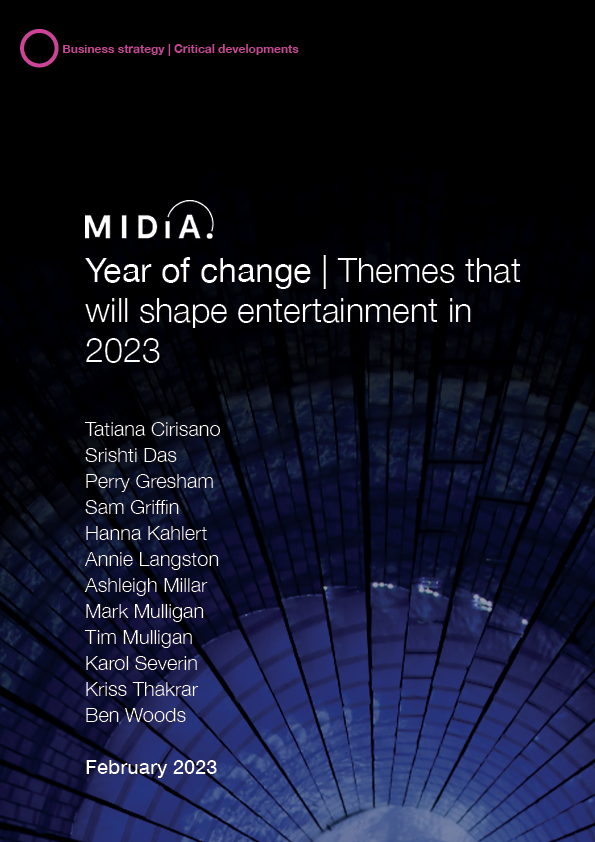 20,000 foot view
This report deep dives into the themes identified in MIDiA's 2023 predictions report. These themes will drive innovation in the digital entertainment landscape in 2023 across music, video, games, audio, cultural trends, and the creator economy.
Expect 2023 to be a of period significant disruption and innovation forced upon the digital entertainment industry, as nearly two decades of uninterrupted growth makes way for consumer-led disruption that is driven by a reduction in discretionary spending, attention, and willingness to make do with tired old formats. 
Welcome to a new way of engaging with the digital status quo. Welcome to digital entertainment in 2023.
Key insights 
The return

IRL, coupled with reduced spending

to go out, will mean

more socially inclined that entertainment

the better; e.g., the return

the cinema, local live music

and the continued prominence of

Algorithms may

favour 'what you might like'

an individualised context, but popularity

success of content relies on

broader community that collectively consumes

and negotiates its cultural value

discussion, memes, identity association, in-groups,

adjacent lean-through activities
Noticing creators

interconnected groups, and not as

will help brands to tap

their communities, promote overall growth

audience size and satisfaction, and

in converting casual creators into

serious / impactful members of

creator economy
Creators only

so much time and energy,

thus building engagement through moments

comes with an investment in

process over the product. However,

creators are able to harness

power of the process, it

the product in itself
The next

of consumers wants less products

to them and more opportunities

engage directly with the creators

love. The role of products

this new paradigm, therefore, will

to serve as a reminder

the moment
The search

authenticity goes beyond influencer culture,

an additional and crucial role

the information sphere: in effect,

oversaturation has resulted in information

Credibility is increasingly a function

emotional perception of truth, rather

a scientific one
Cultural scenes

emerging across the globe, harnessing

distribution power of social and

Emerging markets come with their

cultures that the West has

to leverage for their own

An inability to grasp these

has led to inauthentic and

forced collaborations that have failed

grab the attention of new

While the

film and video game sector

continue to conjure new stories

formats, the overall output of

content from the entertainment industry's

players will fall
There is

limit as to how many

games developers and video streamers

use pre-existing IP to squeeze

revenues from established fanbases without

audiences who are seeking fresh

Walled gardens

by video streamers, IP owners,

video games companies, will be

by fans wanting to express

single digital identity across multiple

The blending

cultural fandom on games like

where players can use skins

by disparate IP worlds, like

Wars and NBA's Michael Jordan,

set a precedent that other

companies will be expected to
Companies and brands mentioned in this report: Africori, All or Nothing, Amazon, Andrew Tate, Bandcamp, BeReal, Braindead, Break Point, Brittany Broski, Camilla Cabello, Charlie, Charlie Puth, Complex, Crisis Core, Discord, Disney, Dreamlight Valley, Drive to Survive, Epitaph, Final Fantasy Fortnite, Fueled by Ramen, Google, Hulu, James Charles, Joe Rogan, Katie Gregor-MacLeod, Meghan Trainor, Michael Jordan, NBA, Netflix, NTS Radio, Parlor, Rise Records, Ryan Reynolds, Shut Up and Dance, Spotify, Square Enix, Star Wars, Tiger King, TikTok, Toro Y Moi, Truth Social, Twitch, Twitter, Warner Music, Warp Records, Welcome to Wrexham, XL Recordings, YouTube, Yungblud, Zoom