Quarterly Digital Content Trends: Q3 2017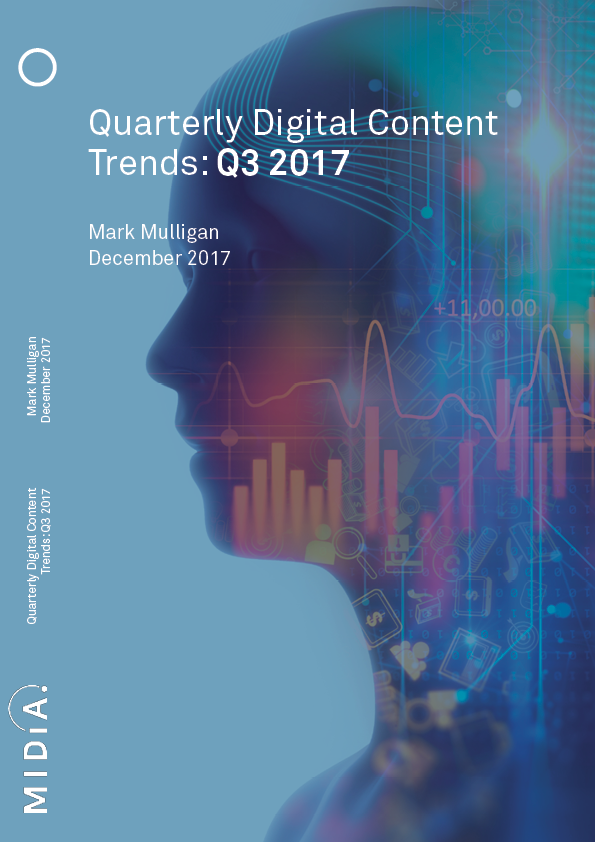 Already a client? Log in to read this report. Become a client or purchase this report.
The 20,000 Foot View: In this report, we present highlights of content trends from MIDiA's Quarterly Brand Tracker. The survey is fielded in the US, UK, Canada and Australia. This report explores how consumer behaviour evolved between 2016 and 2017 across music, video, games and social. 
Key Findings
YouTube's music weekly active user (WAU) audience grew from

to

between

2017 and

2017 
Amazon, Apple, Soundcloud, Google, Deezer and Tidal all had slightly lower streaming music WAU penetration in

2017 compared to

2016
Amazon saw quarter-on-quarter streaming music growth between

2017 and

2017
Spotify is the only music service with higher WAU penetration in

2017

than in

2016

though penetration dropped slightly in

Lip syncing apps Dubsmash and Musical.ly appear to have peaked and now have just

penetration each
Snapchat lost WAUs in

falling to

though it is still higher than it was in

Between

2016 and

2017, Facebook's total WAU audience across its four social properties grew by

points
WAUs of streaming video apps were flat in

while catch-up TV fell slightly
In the UK both Netflix and Amazon registered growth in

WAU penetration for all but three of the mobile games tracked by MIDiA was either flat or diminished in

2017
All key music behaviour was flat in

2017, except for radio which continued its long-term decline
YouTube and Facebook both saw video audiences grow in

while mobile TV viewing was down 
Companies and brands mentioned in this report: Amazon Prime Music, Amazon Prime Video, Apple Music, Candy Crush Saga, Clash Of Clans, Clash Royale, Deezer, Dubsmash, Facebook, Facebook Messenger, Flipagram, Game of War, Google Play Music All Access, Instagram, MARVEL Contest of Champions, Minecraft, Mobile Strike, Musical.ly, Music Messenger, Netflix, Pinterest, Pokémon Go, Snapchat, Snap Inc., Soundcloud, Spotify, Supermario Run, Tidal, Twitter, WhatsApp, YouTube