Music Publishing At A Cross Roads
How Streaming Is Transforming The Outlook For Music Publishers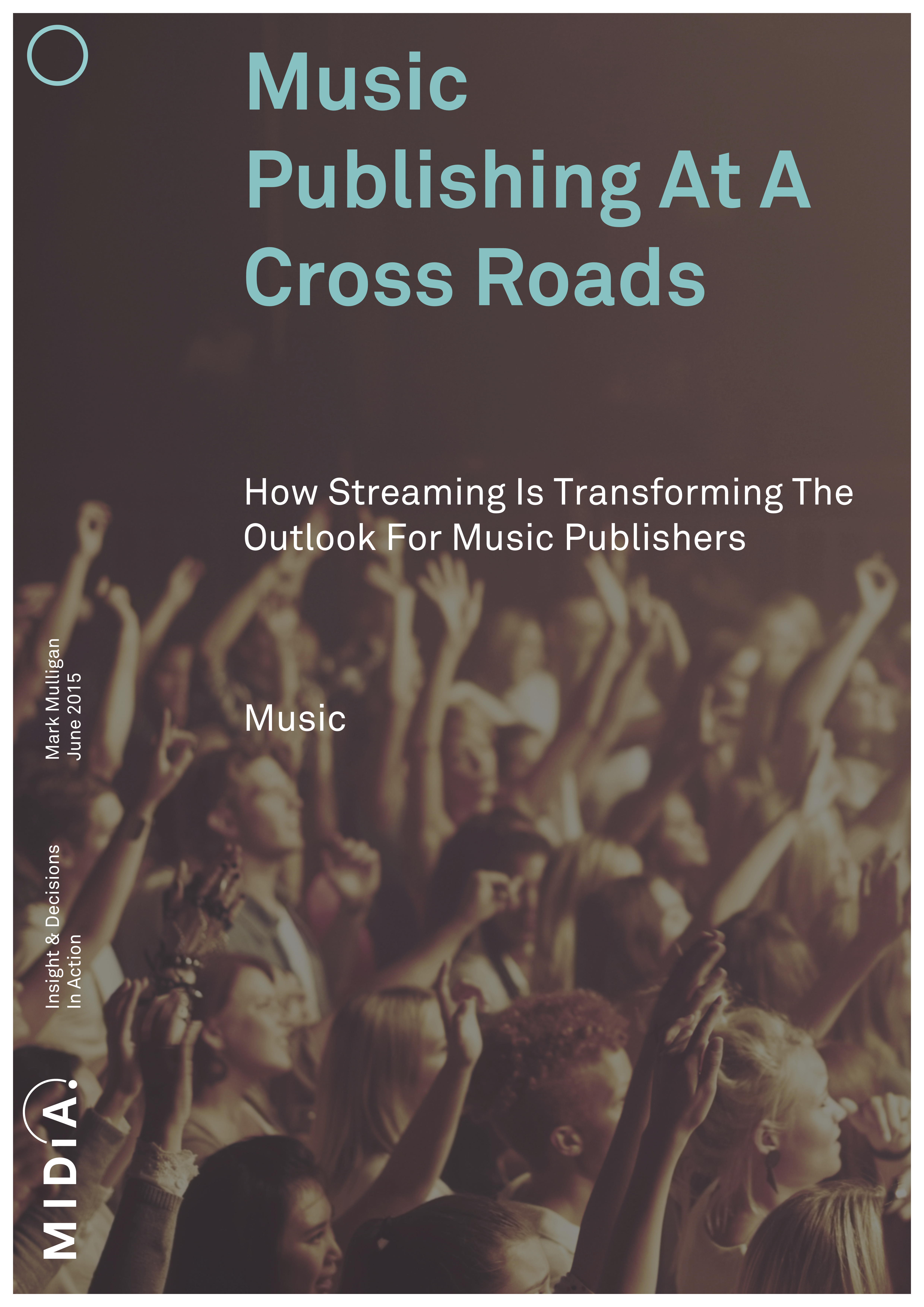 Our clients have full access to all of our reports. Clients can log in to read this report. Click here to become a client or, you can purchase this individual report.
The 20,000 Foot View
Everything starts with the song yet music publishers have often been the last part of the digital equation.  Relative insulation from the effects of declining music sales have enabled publishers to have a far less digital centric worldview than record labels.   Streaming is now acting as a catalyst for great publisher engagement in the digital marketplace.  Historically music publishers have enjoyed a highly diversified revenue base with clearly demarcated rights.  But these analogue era delineations are being tested, often to breaking point, by new emerging digital use cases.  This coupled with songwriter dissatisfaction and calls for great transparency mean that the outlook for music publishing is much less straight forward than it was five years ago.
Key Findings
Global music publisher revenue grew from

billion in 2012 to

billion in 2014.  This

increase contrasts with a

decline in record label revenue over the same period
At the same time music publisher digital revenue share increased from

to

Music industry decline since 2000 has been a record label phenomenon with both love and music publisher revenue growing throughout most of the period
Performance royalties dominate music publisher revenue with

billion,

of the total and grew by

in 2014
The diversity of revenue streams means that music publishers were largely insulated from much of the digital disruption that drove down record label revenues
The accelerated decline in music sales that has accompanied the rise in streaming is now translating into declining mechanical royalties which now represent less than a fifth of publisher revenue
Sony ATV has a

market share while innovative independents Kobalt and BMG have both significantly grown market share
The music publisher royalty landscape is characterized by fragmentation, slow reporting cycles, lack of transparency and poor quality data
Innovations in reporting and music publishers' push for a larger share of digital rights revenue will be key issues over the next few years 
Companies mentioned in this report: Sony ATV, Warner Chappel, Universal Music Publishing, Kobalt, BMG, Round Hill Music, PRS for Music, Spotify