Global Music Forecasts 2014 to 2019
The Shift To The Consumption Era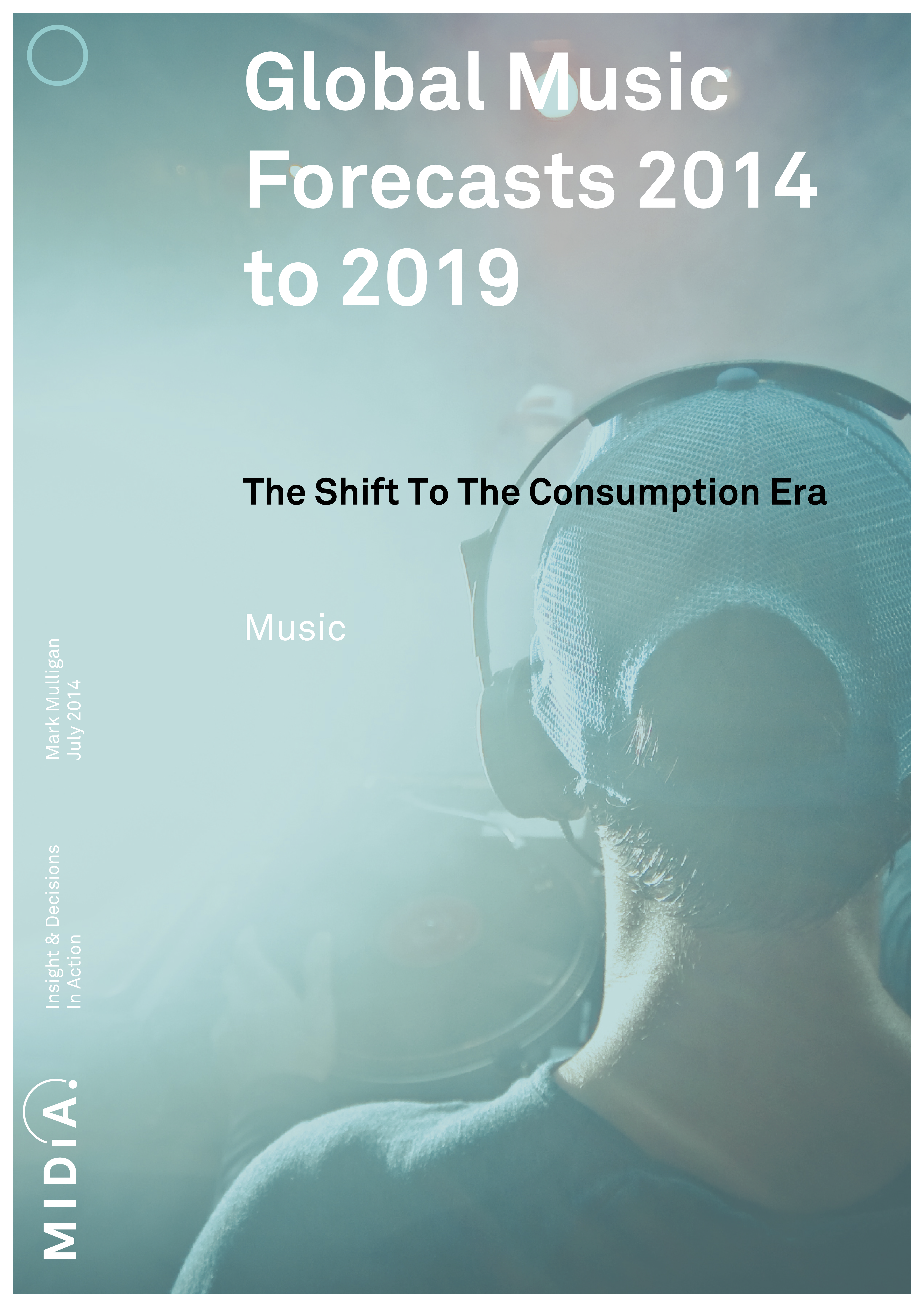 Our clients have full access to all of our reports. Clients can log in to read this report. Click here to become a client or, you can purchase this individual report.
The 20,000 Foot View
2013 was the recorded music industry's successive year of revenue decline. The prolonged death rattle of the CD continues to drag the global market down with it and things just got worse with the paid download entering its own tailspin. Streaming and Subscriptions are the great hope and are growing at unprecedented rates.  But the products are not enough on their own, affordable mass market products are needed too. Even with them global music revenues will still decline slightly for the next five years. Without them revenues will shrink at pace and scale. 
Key Findings
We are entering the fourth phase of digital music, one that will be defined by curation, programming and affordable subscription pricing.
Between 2008 and 2013 the global recorded music market declined by

from

billion to

revenues will drop by a further

dragged down by a

fall in Japan, the world's second largest music market.
Streaming and Subscription revenue is strongest in the markets where there was never a strong paid download sector.
The outlook is a story of revenue transition and incumbent revenue decline: physical revenue will decline by

by 2019 while Streaming and Subscriptions transition will help drive download revenues down by

over the same period.
Despite revenue decimation the CD will remain a hugely important product, with physical accounting for

of global revenue in 2019. 
Similarly, despite download revenue decline, download buyers will remain the majority in 2019, declining by just

between 2013 and 2019.
Mass Market Subscriptions will transform the binary choice between Premium and Ad Supported into a hierarchy of opportunity.
Telco bundles will be the other crucial tool for monetizing the mainstream music consumer.
Ad Supported will bring scale and improved but still modest ARPU:

by 2019, compared to

for Premium Subscriptions and

for Mass Market Subscriptions.
Companies mentioned in this report: Spotify, MusicQubed, blinkBox Music, Telia, Wimp, Telenor, TDC Play, TDC, Deezer, France Telecom, Napster