Fandom and lean-in culture are reshaping video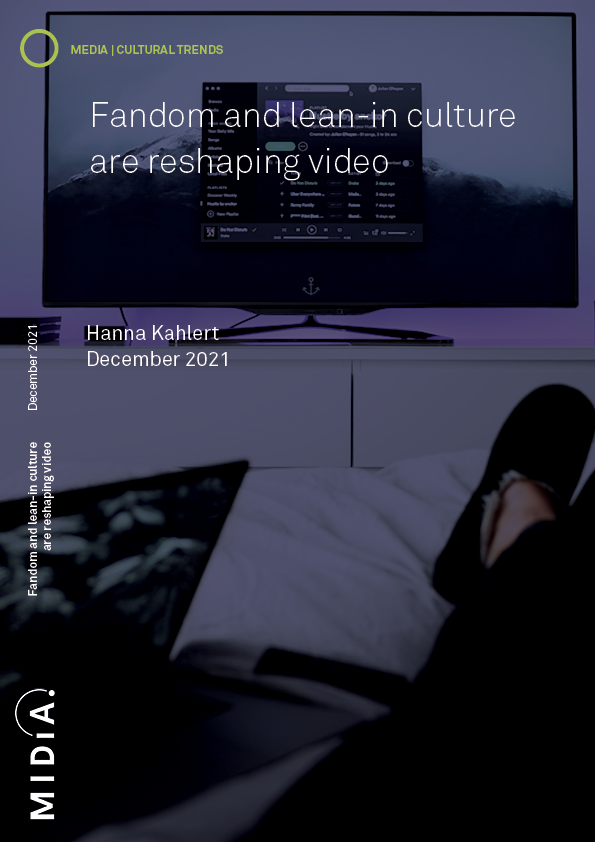 Our clients have full access to all of our reports. Clients can log in to read this report. Click here to become a client or, you can purchase this individual report.
The 20,000 foot view:  To compete in the new hyper-saturated attention economy, entertainment propositions must tap into audience sentiment to generate fandom and understand where they fit in the lives and habits of audiences.
Key Insights
As linear TV declines, outpaced by on-demand, cultural moments are being replaced by cultural movements
Fandom for a TV show is more important than ever. Fandom is underpinned by four key aspects: identity, attention, scarcity, and wallet share
Finding fandom overlaps is important to serve audiences in a way that tempts them to return to a service, by engaging them in multiple avenues across their varied entertainment habits. For example,

of video subscribers are also fans of American football;

are fans of rock music, and

are fans of baseball
Consumers are eager for originality and are seeking out ways to actively engage with content experiences that interest them – often beyond the point of consumption itself
Entertainment providers can either incorporate and facilitate this – which many new insurgents are doing – or they can ignore it, in the same way broadcast TV has largely continued to do, to the detriment of consumer attention, engagement, and cultural relevance
While some propositions will super-serve a consumer need in order to drive sustainable usage, others may want to broaden their offerings to incorporate the different contexts of usage
Strategic value will be increasingly derived from crafting appropriate content partnerships, and / or incorporating lean-in features onto platforms and devices
Companies and brands mentioned in this report: Amazon, Apple, Google, Netflix, Spotify, TikTok, Twitter, YouTube