Sports SVOD Services Deep Dive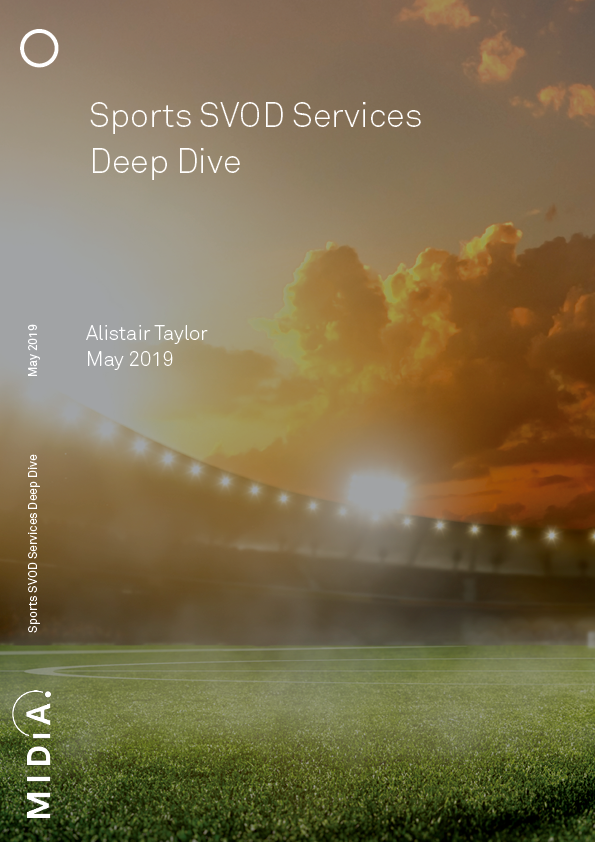 The 20,000 Foot View:  Sports-centric subscription video on demand (SVOD) services have entered international markets, looking to capture digital-native audiences from pay-TV and other established SVOD services. Eleven Sports' demise in the UK provides the best case study for how streaming services can struggle when entering a market with insufficient rights offerings. A failure to secure carriage deals with traditional broadcasters was detrimental to Eleven's  offering as rightsholders (demanding reach) rescinded the deals, leaving the service only with non-exclusive La Liga to entice UK subscribers to its platform. Complicating the rights challenge is the essentially different demographic compositions of pay-TV and sports SVOD subscribers, and the specific behaviours these valuable audiences display when considering how to address them. 
Key Findings
ESPN+ leads

SVOD services in English-speaking markets

weekly active usage (WAU) penetration

subscription penetration in

2018

of consumers rank sports as their most preferred genre for a video service
Eleven Sports

the UK has the lowest

penetration for local sports services

and even lower subscription penetration

in

2018
DAZN in

had WAU penetration of

in

and subscription penetration of

Consumers with

or more digital subscriptions decreased

a peak of

in

2017

in

2018
The decline

binge viewing as an activity

in

2016 to

in

2018

the attention economy has reached

peak

year olds accounted for

of sport SVOD service WAUs in

2018, with usage still a niche behaviour and at only

penetration for the same demographic

year olds only account for

of those who consume sports on TV; however with

penetration the activity is still six times more common than sports consumption on SVOD

of WAU for ESPN+ in the US,

of Kayo Sports WAUs in Australia and

for DAZN in Canada are all under

years old
Males are

likely to pay for sports

services, accounting for

of those

subscribed in

2018

of cord-cutters engage with sports SVOD services, compared with just

of pay-TV subscribers
Companies and brands mentioned in this report:  AFL, Amazon Prime Video, Amazon, Apple, AppleTV+, Crave TV, DAZN, Disney, Disney+, Eleven Sports, ESPN+, Hulu, Kayo Sports, KFC Big Bash, La Liga, NBA, Netflix, NFL, NHL, Now TV, NRL, UFC, Warner Media.