Music catalogue acquisition
Picking apart the $5 billion competition for icons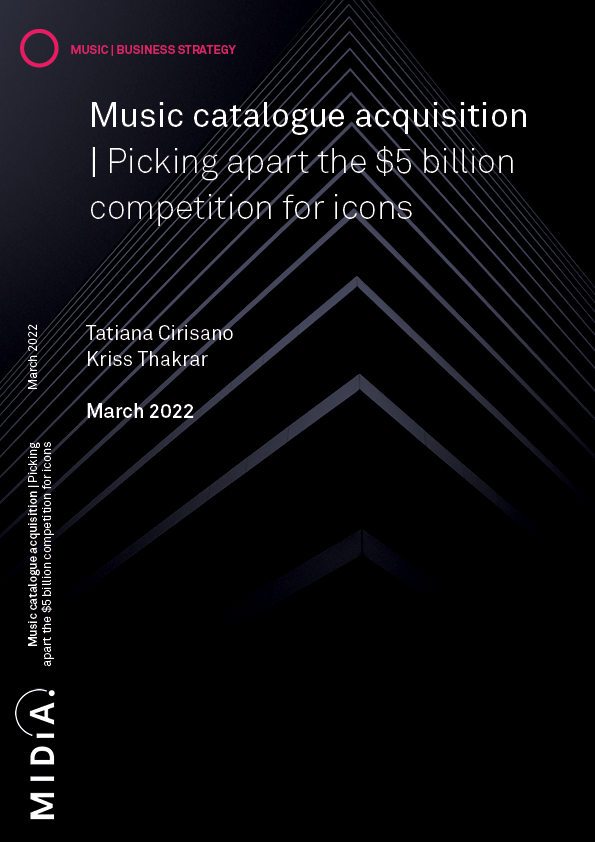 The 20,000 foot view:  A variety of economic factors and stock market volatility during the coronavirus pandemic helped establish music as an attractive asset class for institutional investors. With labels, publishers, institutional investors, and newly launched funds now competing for the same diminishing pool of evergreen catalogue, competition and prices are high. Investors need new strategies to stand out, opening pathways for specialisation in overlooked categories, like hip hop, and the evolution of more bespoke deal structures.
Key Insights
Investors spent

on announced catalogue acquisition deals

2021, a

increase over 2020
Western markets,

in particular the US, are

to have the highest streaming

revenue per user (ARPU), thus

the strongest influence on catalogue

Most deals

publishing rights, but masters

and

image, and likeness

are increasingly

Investors lean

rock music, which makes up

catalogue deals, as well as

from the 2000s

of deals)

1970s

of deals)
Of

classic

who charted No.

albums on

Billboard

between 1970 and 1999,

one third have already sold

portion of their rights
Despite a

of US consumers, and

of

hip hop fans, hip hop

just

of catalogue deals in

While a

number of investors dominate the

2021 saw a

increase in

number of deals carried out

the long tail
Methodology statement
MIDiA is neither a financial analysis company nor an investment advisor. The analysis in this report focuses on market dynamics and resulting market strategies.
Companies and brands mentioned in this report :Audioshake, AWAL, Bass Construction, BlackRock, BMG, Bob Dylan, Bruce Springsteen, Capella Grey, Columbia Records, David Bowie, Dr. Dre, Elton John, Eminem, Fortnite, Francisco Partners, Hipgnosis Songs Fund, HYBE, Influence Media, Ithaca Holdings, iZotope, JAY-Z, Juice WRLD, Juveline, Kanye West, Kilometre Music Group, KKR, Live Nation, Luther Vandross, Megan Thee Stallion, Michael Jackson, Mojo Music & Media, Native Instruments, Northleaf Capital, Olivia Rodrigo, Paramore, Primary Wave Music, Round Hill Music, RZA, Sony Music Group, Spice Girls, Spirit Music Group, Splice, Stevie Nicks, Sting, Tempo Music, The-Dream, TikTok, Timbaland, Tina Turner, TLC, Tracklib, Travis Scott, Universal Music Group, Warner Music Group, Will Smith