Building Show Fandom in the Streaming Era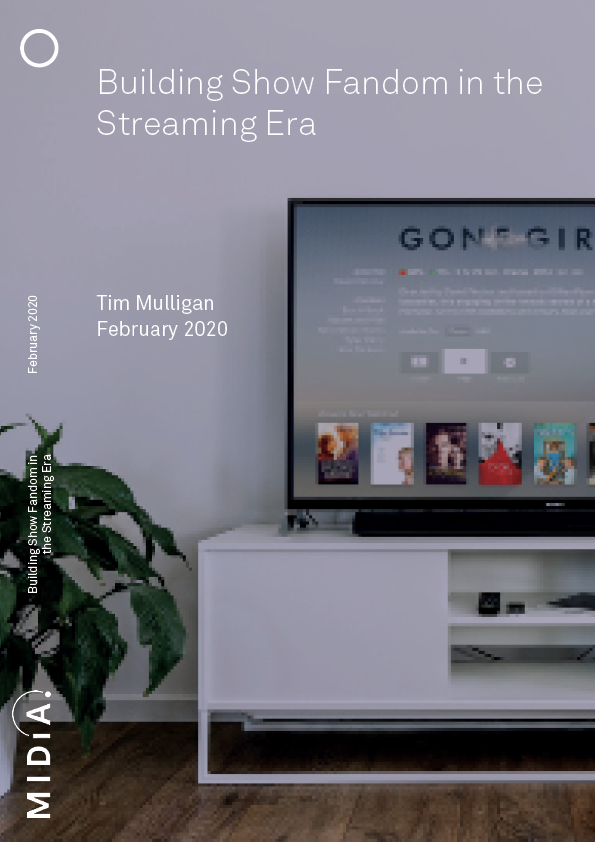 Our clients have full access to all of our reports. Clients can log in to read this report. Click here to become a client or, you can purchase this individual report.
The 20,000 Foot View:  The direct-to-consumer video big bang moment is getting into stride, with Peacock and HBO Max following Apple TV+ and Disney+ into the already-congested video streaming marketplace. TV show marketing teams now face unprecedented competition for audience attention and mindshare. With the attention economy now moving into a post-peak phase, any streaming app is a mere finger-swipe away from being switched or even deleted. Meanwhile, discretionary subscription spending faces pressure from a possible future recession, forcing TV networks to double down on building fandom and engagement. In the era of fluid TV audiences, where engagement has to be earned and continually invested in to maintain, TV show brands are the ultimate weapons in the fight for audience share. Never has TV show brand marketing been so important.
Key Insights
Niche positioning empowers cultural movements around shows by leveraging fandom
The four pillars of video fandom are identity, attention, scarcity and wallet share
Identity: The unbundling of the linear schedule means that the identity facets of a show have now become central for viability in the streaming ecosystem
Attention: The biggest challenge facing all forms of media distribution in 2020 is the transition from peak attention to a post-peak attention environment
Scarcity: In the on-demand era, less is increasingly seen as more
Wallet share:

marketing strengths, weaknesses, opportunities, and threats (SWOT) analysis for shows need to focus on wallet share
Awareness and fandom do not always directly correlate
TV show return on investment (ROI) needs to separate streaming from awareness and overall viewing
Translating buzz into streaming engagement is a key marketing objective
Niche is the new mainstream due to the fragmentation of audience viewing
Streaming hits are designed to be post-linear with consumption freed from the linear straitjacket
Companies and brands mentioned in this report:   Amazon Music, Amazon Prime Video, Apple Music, Apple, Apple TV+, AT&T, CBS, CBS All Access, Comcast, Disney, Disney+, ESPN+, HBO Now, Netflix, Spotify, Warner Media