MIDiA Events
Upcoming MIDiA events
We are currently planning our next event, further details will be announced here soon.
---
Previous Events
BE THE CHANGE: Women in Music 2022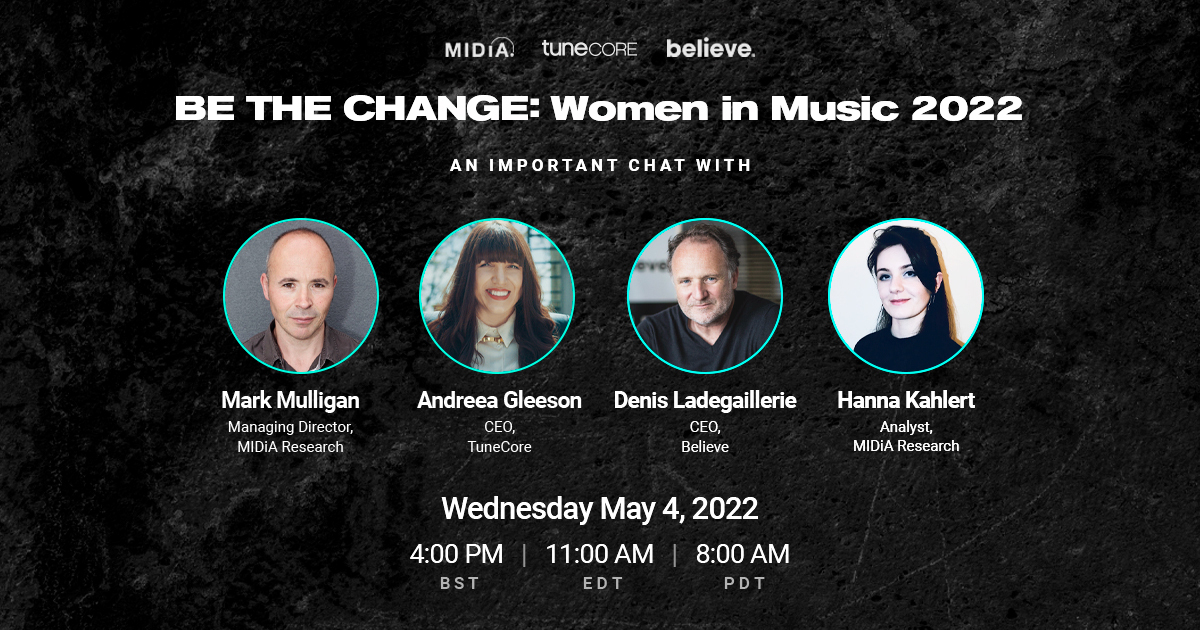 Andreea Gleeson (CEO, TuneCore), Denis Ladegaillerie (CEO, Believe), Hanna Kahlert (Analyst, MIDiA Research) and Mark Mulligan (Managing Director, MIDiA Research) hosted a fireside chat dissecting and discussing the findings of their 2nd annual study, 'BE THE CHANGE - Women Making Music 2022'. The study breaks down the systemic and cultural barriers that exist in the music industry and what we can do to move towards equality.
You can watch our BE THE CHANGE: Women in Music 2022 on YouTube.
Games Companies' Video Opportunity Webinar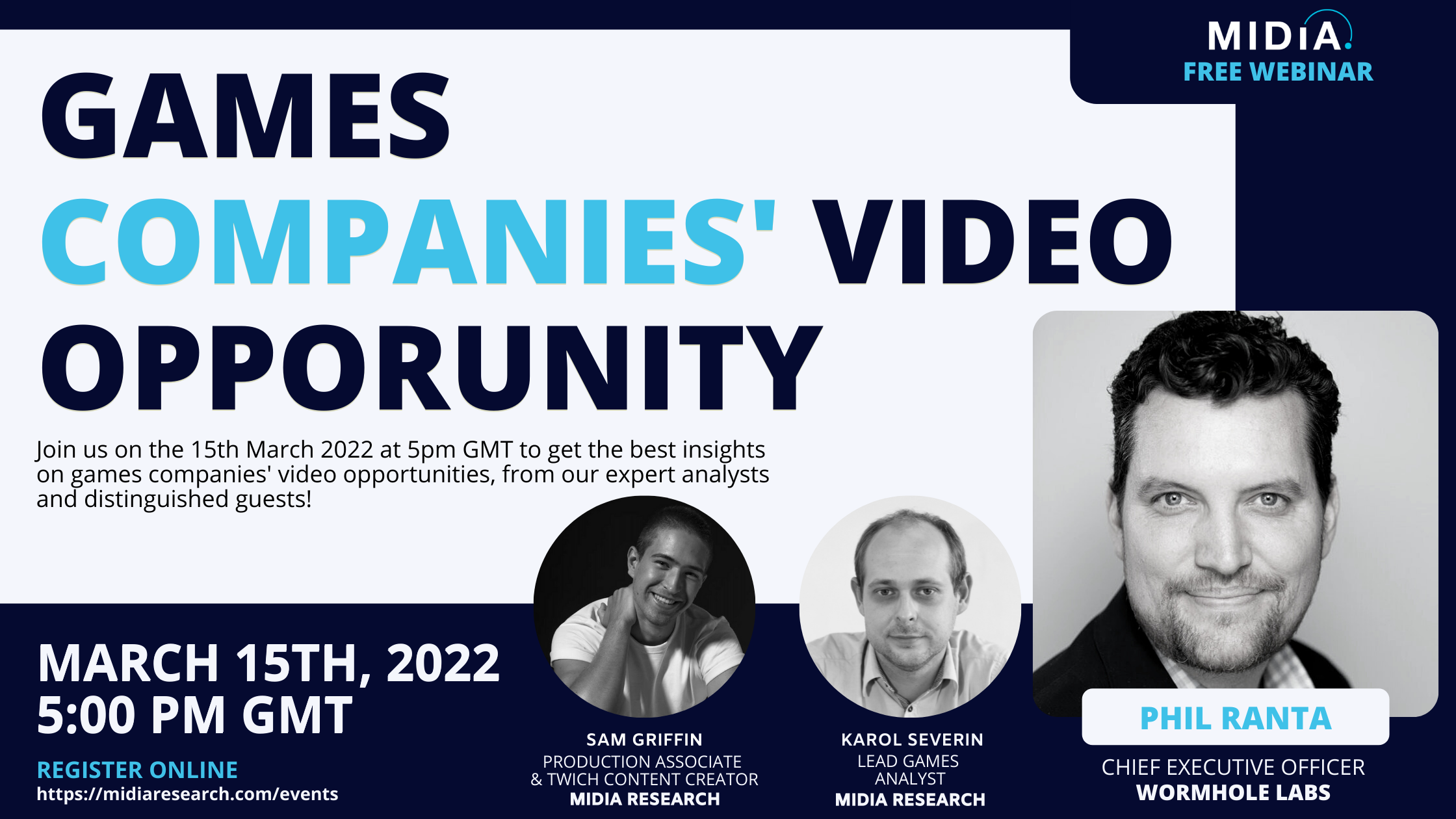 On the MIDiA held a webinar showcasing the best insights from our expert analysts and distinguished guests on games companies' video opportunities. As the games industry is transitioning from unit sales towards engagement-led spending, coupled with the creator market growing, games videos are starting to play a much more substantial role for games companies and creators than ever before. We will be using the session to deep dive into how this would work, the size of the opportunity and the type of companies and creators best suited for this opportunity.
MIDiA's lead games analyst, Karol Severin, presented his key findings, followed by a panel with former head creator at Facebook, Phil Ranta and games community builder, Sam Griffin.
Speakers
Karol Severin is MIDiA's Lead Analyst for research on games, and the product manager of MIDiA's data tools. Karol's research covers all aspects of the gaming economy, including mobile, PC, and console gaming, as well as freemium strategy and consumer segmentation. Prior to joining MIDiA, Karol gained experience in a number of marketing, research and consulting roles and as a technology start-up founder.
Phil Ranta is the Chief Executive Officer at Wormhole Labs, a technology company that built a platform for user-generated metaverses. As Head of Gaming Creators, North America at Facebook, Phil achieved over five times departmental growth in his first year, signing exclusive streaming contracts with DisguisedToast, Corinna Kopf, and UFC / WWE superstar Ronda Rousey. Phil also built two of the largest creator networks in the world while he was COO at Studio71 and VP, Networks at Fullscreen, both successfully exited (to ProSieben and Otter Media, a joint venture between AT&T and Peter Chernin, respectively). Other roles include Head of Creators at Mobcrush (a live streaming technology with hundreds of thousands of authenticated users), Executive Producer at Viva! Vision (producing content delivered to over 250 million mobile phones worldwide), and a content creator who produced videos and podcasts that have achieved hundreds of millions of views and downloads.
Sam 'BigGriffin' Griffin has spent the past two years in the gaming industry, focusing on building communities through social platforms, broadcasting, and content production. He tailored his community primarily around unique events, first person shooter games, and personal development. Now he is focusing on more on-the-ground developments in the gaming space, alongside his work at MIDiA, with the aim of providing a different perspective and first-hand experience to the incredibly detailed meta-trends found in their reports.
You can watch our Games Companies' Video Opportunity Webinar on YouTube.
Hybrid Futures | MIDiA 2022 Predictions Webinar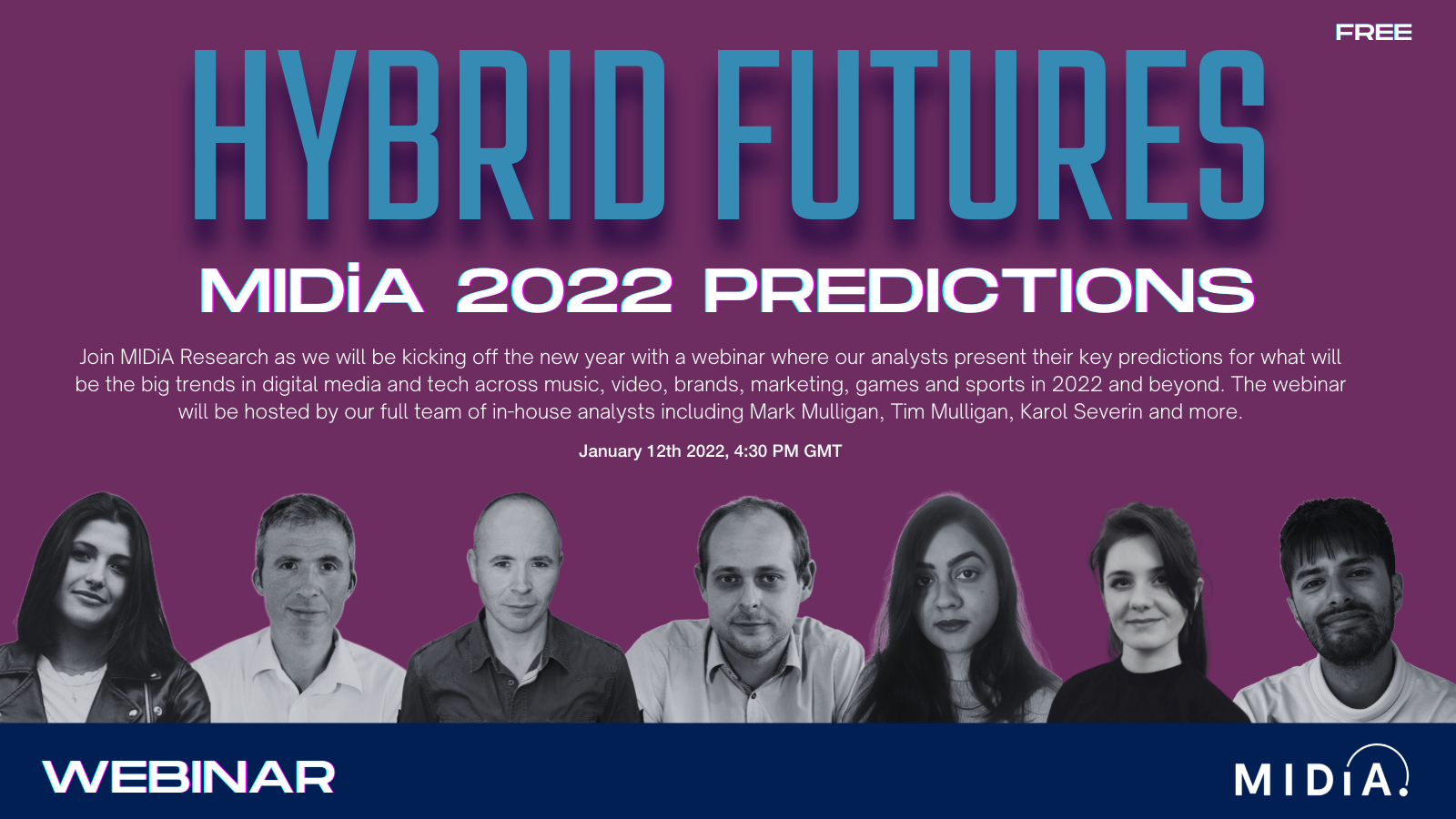 On the 12th of January 2022, MIDiA held a webinar where our analysts presented their key predictions for the big trends in digital media and tech across music, video, brands, marketing, games and sports in 2022 and beyond.
The webinar was hosted by our full team of in-house analysts including Mark Mulligan, Tim Mulligan, Karol Severin.