WWE Q3 Earnings – An innovative digital strategy helps WWE overcome COVID-19 disruption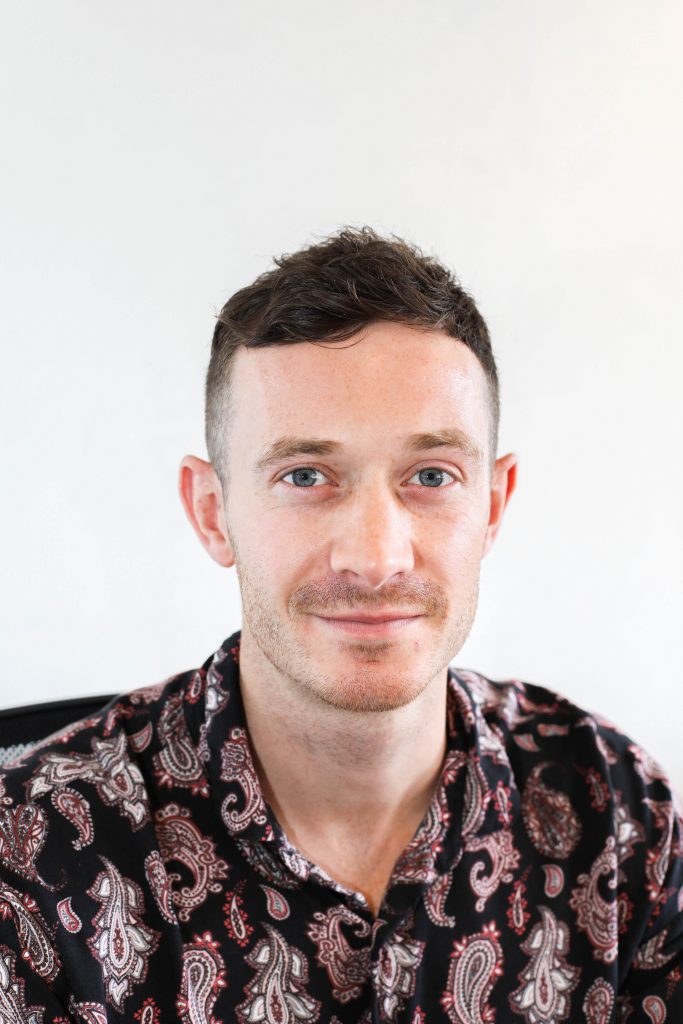 WWE's Q3 2020 results provide a fascinating insight into how a live event-focused entertainment business has successfully navigated a global pandemic. In its financials for the quarter, WWE saw a 19% revenue increase year-on-year (YoY), with Q3 2020 revenue at  $221.6 million, up $35.3 million on Q3 2019. This maintained strong performance during a global health crisis that brought nearly the entire global live entertainment industry to a standstill is impressive, and offers valuable learnings for other rights holders and distribution networks to examine.
Digital prioritisation has helped WWE successfully navigate its way  through the pandemic
While the NFL, MLB, NBA and English Premier League (EPL) are facing losses of $7 million, $4 billion, $1 billion and $1 billion respectively in matchday revenue due to empty stadiums, WWE's ability to maintain a consistent performance is admirable. Since the onset of COVID-19 WWE has also been running events to empty arenas, with its nine-month reported live attendance figure at 259,000 (all from events held during Q1 2020). This is down 919,000 when compared to its live event footfall from Q1-Q3 2019. This has inevitably had a significant impact on the contribution of the live events revenue segment, with nine-month revenues for the segment  down $79 million compared to last year.However, total WWE revenue is up $98 million – an increase of 15.4% over the same nine-month period.
WWE is outperforming in the current climate with increased nine-month revenues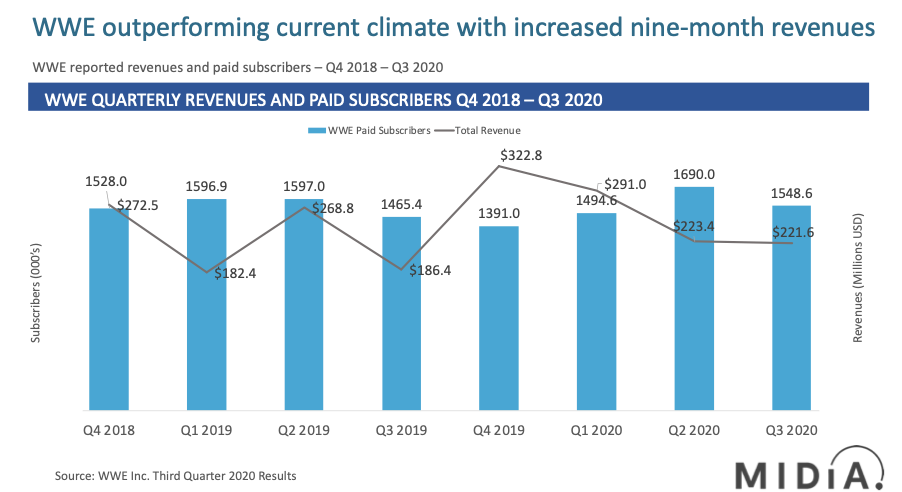 New initiatives and innovations for tackling this unprecedented crisis head on have been fundamental for WWE in offsetting the decrease in live ticketing revenue while continuing to deliver its scheduled live content.
The WWE continues to adapt to changes in its business requirements during this evolving climate, with investments in content production and focus on enhancing fan engagement. An incremental investment of $22-27 million helped to launch WWE ThunderDome, with a state-of-the-art set, video boards, pyrotechnics, lasers, graphics and drone cameras, to augment the fans' viewing experience. Bringing fans virtually into the arena via live video at every Monday Night Raw, Friday Night Smackdown and pay-per-view event not only provides unique access and an avenue for bringing fans closer to the action, it also mitigates the absence of fans attending shows. Other rights holders such as the NBA within Disney Land's 'bubble city' and premier football clubs have incorporated web conferencing applications to offset the absence of fans.
Unlike the majority of sports, WWE kept the lights on when the pandemic forced live entertainment to postpone indefinitely on a global scale, contining to broadcast its live events – albeit to empty arenas. This inevitably weakened the proposition with a spectacle devoid of atmosphere. However, it did allow for continued distribution while all other competing live entertainment formats were offline. WWE was able to broadcast its showpiece event Wrestlemania 36 in April, achieving 967 million video views across digital and social platforms, a 20% rise YoY.
COVID-19 has exposed live entertainment as an extremely vulnerable asset class during a global health crisis, rendering sport-centric pay-TV and streaming services  which are overly reliant on live sports broadcasts for maintaining engagement as primary churn candidates. The justification for holding these premium subscriptions without any compelling content (outside of recycled archive footage and rerun docuseries) during sports' hiatus became ever harder. This was evident with the decline in Kayo Sports, Optus and DAZN's subscriber bases during lockdown.
WWE's stance enabled its OTT offering WWE Network to continue delivery of its events even if it meant leveraging the awkwardness of the empty arenas to create an amusing spectacle, helping WWE to capture engagement during lockdown. Without holding a ticketed event since early March, WWE has not only maintained subscriber numbers but also grown its addressable audience 6% when compared with 2019. Digital video views increased 3% in Q3 2020 to a total of 9.2 billion, with hours consumed increasing 3% to 342 million. WWE also surpassed 50 billion views on YouTube, making WWE the fifth most-viewed YouTube channel globally, highlighting its social reach.
Has the WWE pinned the pandemic – …1…2…3…?
Proactive diversification of its revenue streams has assisted this performance, with its e-commerce growing 47% YoY with $9.1 million revenues in Q3 2020. Digital prioritisation has allowed WWE to succeed during the pandemic where others have failed. This subscription revenue and 90% growth in core content rights fees from Q1-Q3 2020 has enabled the entertainment company to successfully navigate the pandemic and subsequent recessionary climate thus far.
The WWE has provided a case study to follow, demonstrating that rights holders who innovate with the current viewing format and prioritise digital engagement beyond the pureplay of broadcasting live events will navigate these global pandemics better. This innovation and proactive digital strategy has supported  the growth in domestic core content rights which currently remain the primary revenue driver for WWE. A digital-centric strategic road map including Esport initiatives in WWE2K opens up additional  opportunities to tap into WWE's  younger digital native audience, who are increasingly engaging with a post-broadcast live sports and entertainment world.
Trending