UK Baby Boomers Are Growing Binge Watchers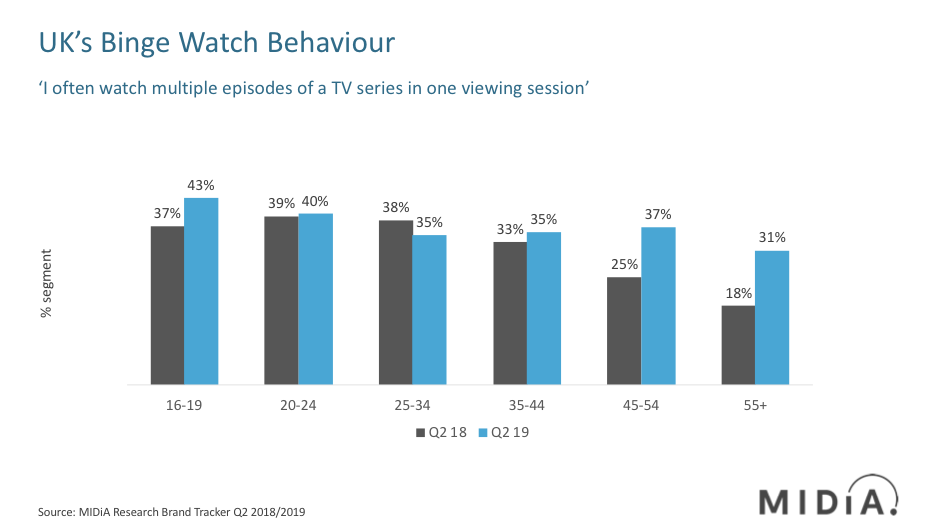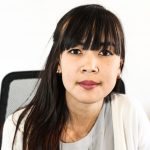 31% of baby boomers in the UK are in the habit of binge-watching TV shows, according to the MIDiA Research Q2 2019 Consumer Survey. While millennials and gen Z are still at the forefront of the binge-watching trend, baby boomers recorded a 70% growth in binge watching from 18% in Q2 2018 to 31% in Q2 2019.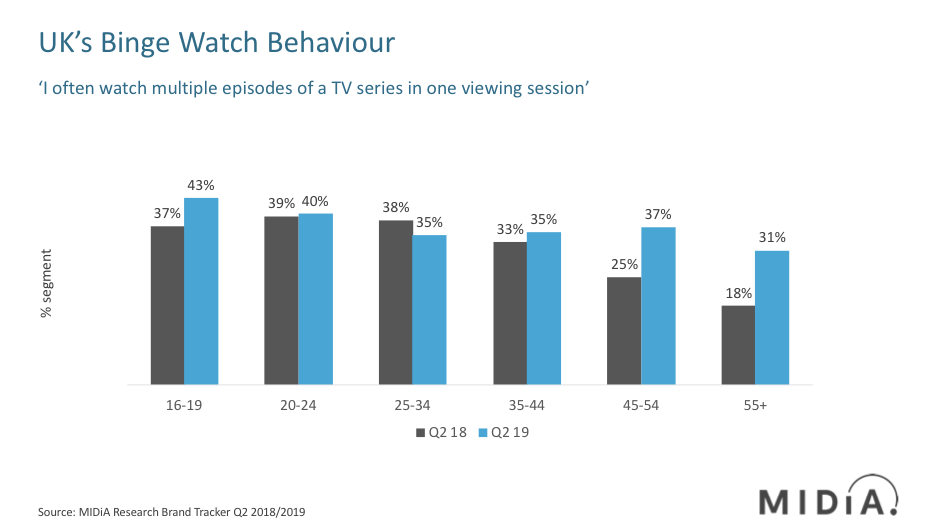 People aged 45 and upwards might be latecomers, but they represent the age group with the strongest growth in binge watching behaviour from Q2 2018 to Q4 2019 in the UK. In contrast, there has been a decrease in binge watching for respondents aged 25-34. The 9% drop within this demographic could well be an early indication of the peak attention economy now affecting the entire digital marketplace. With more streaming services being made available, it is becoming increasingly challenging for media companies to vie for consumer attention – particularly in video. As Netflix CEO Reed Hastings famously said, "we actually compete with sleep".
The shift in video consumption habits for baby boomers is also notable in video subscriptions. In Q2 2018, only 17% of people aged 55 and above paid for a video subscription. However, in Q2 2019 over a quarter of this age group are adopting video subscriptions – further validating the rise of binge watching amongst baby boomers.
In contrast, respondents aged 16-34 are quitting video subscriptions, with the most significant age group being between age 20-24. This group saw a significant decrease in respondents who pay for a monthly subscription. This is a telling sign of how competitive the video streaming landscape is becoming: with more and more video services available, consumers need to readjust entertainment budgets to suit their TV and video needs.
Linear TV
The adoption of video subscription services has not affected the habit of watching live TV within the baby boomer segment. The majority of baby boomers and people aged 45-54 in the UK still enjoy linear TV. The biggest standout of this trend is that people in their golden age consume a healthy ratio of traditional and online TV. Although consumption is not as heavy when compared to the younger generations, this demographic group has great potential to the TV industry. They have demonstrated a higher purchasing power and a steady growth in video consumption.
Targeting Generation X and Baby Boomers
This generation will continue to enjoy the best of both worlds – reminiscing the times when families got cosy in the living room to watch TV shows together, but also appreciating technology and what it now has to offer them. What this generation needs is their own version of Stranger Things. Time will tell if video services can engage them further, while still remaining relevant to the younger generations.
Trending