TwitchSports: Amazon throws sports into the starting line-up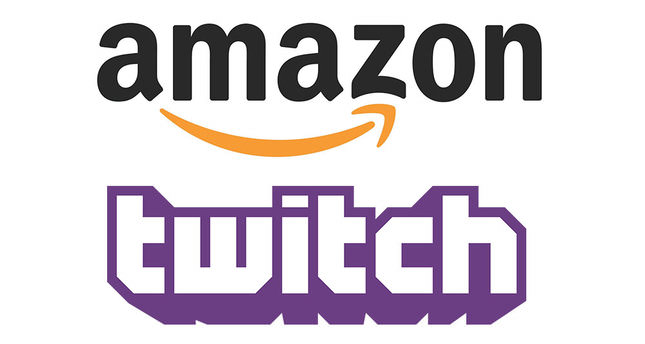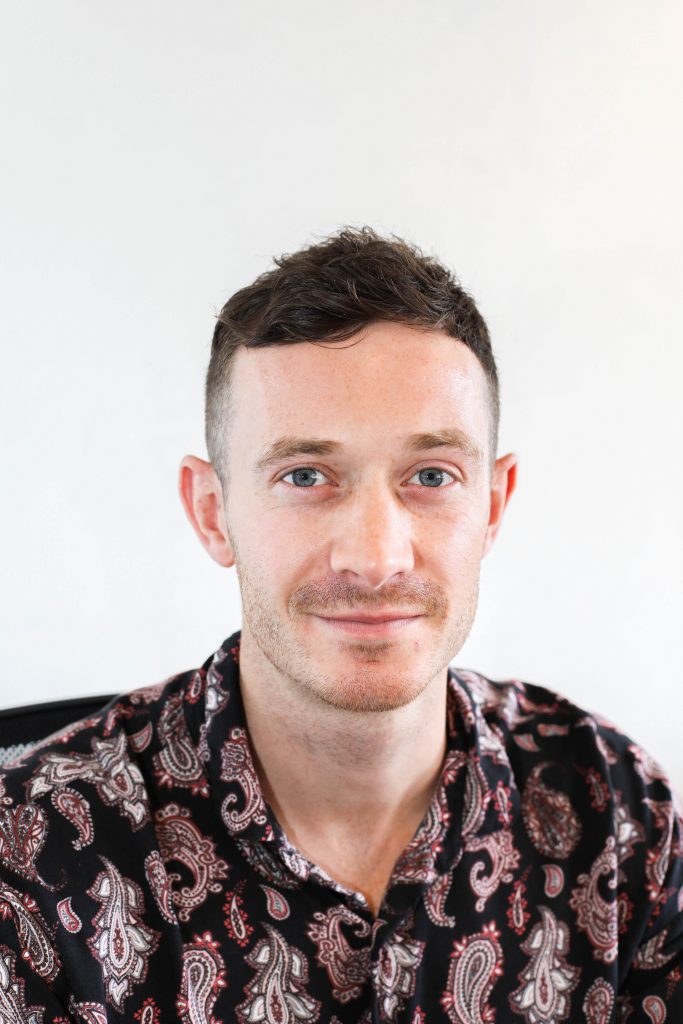 Amazon-owned Twitch is no newcomer to sports. However, in a deliberate move to double down, Amazon has conceded that it needs to improve the discoverability of live sporting events for its platform users – so, as of last Wednesday, 'Sports' has become a standalone category with the return of Twitch.tv/twitchsports.
Twitch has established its proposition as the go-to destination for live-streaming video games. However, opening up the platform to live sports has also opened up the addressable Twitch audience to encompass the traditional sports fan.
Twitch's gaming-centric proposition has succeeded in developing it into the leading games streaming platform. However, user activity has recently stalled. Engagement has hovered around 5% weekly active use (WAU) penetration across the core English-speaking markets since Q1 2019. This has forced Amazon to diversify in order to grow its currently niche core audience.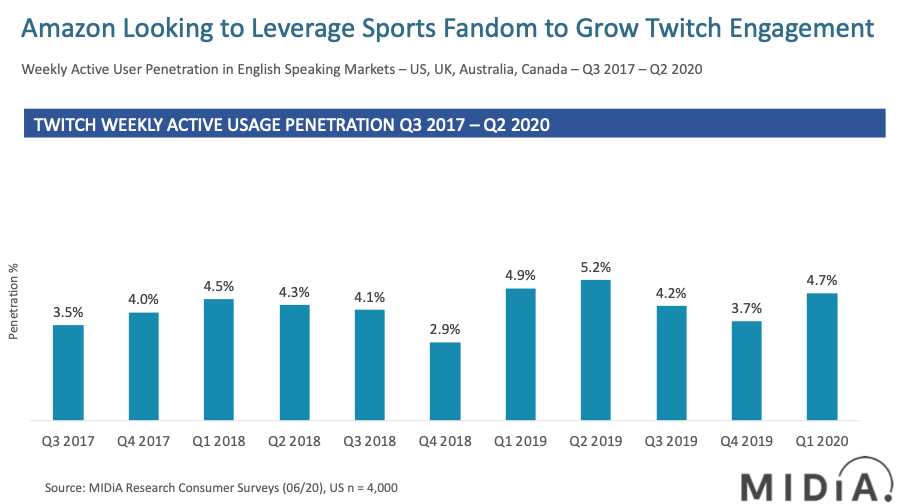 Reaching a younger audience: Could Twitch be live sports' 'super-sub'?
The pandemic-enforced postponement of live sports has forced rights holders to prioritise building their digital engagement beyond pureplay broadcasting of live events. Twitch's demographic appeals to this need of rights holders, with over two thirds of US Twitch weekly active users (WAUs) in Q2 2020 aged 16-34 (source: MIDiA Research). Considering this demographic accounts for less than a quarter of US consumers who traditionally watch live sports on TV, future-proofing a fanbase by reaching this increasingly valuable audience is paramount – which is where rights holders see Twitch coming in.
The NFL's partnership with Amazon made headlines back in 2017, when Amazon replaced Twitter as the digital home for 10 Thursday Night Football (TNF) fixtures, paying $65 million per season for the privilege. The 2019 NFL season marked the third year for Amazon Prime Video as the live-streaming partner for the TNF package, and as part of the tech major's deal with the most valuable sports league globally Twitch was granted the rights to stream these games. This move looked to kill two birds with one stone, considering not only that Twitch harbours a young and digitally-native audience, but being the go-to destination for video streaming and with Twitch users twice as likely to play the virtual entity in Madden NFL, it looks like a logical decision to convert gamers into consumers of the real-life spectacle (source: MIDiA Research). In April, the NFL announced it was giving Amazon exclusive rights to live games for the first time, with Amazon getting sole custody of a Saturday game in the next three seasons through 2022.
Gaming was a significant benefactor from the void state that the pandemic-enforced postponement of live sports created. However, with the English Premier League (EPL) returning to finish its season, Amazon directly benefited with the EPL awarding an additional four games to live stream on Twitch. This not only strengthened Twitch's sports proposition, but allows the EPL to target a largely untapped audience demographic given the age group of 16-24 represents over a quarter of Twitch's WAUs but account for less than 10% of UK consumers who watch live sports on TV (source: MIDiA Research).
Last week, Amazon announced content collaborations with four elite European soccer clubs, ahead of its dedicated sports channel launch. The four teams consist of La Liga champions Real Madrid, Serie A champions Juventus, Ligue One champions Paris Saint-Germain and EPL contenders Arsenal, bringing Twitch a social reach of over 438 million followers accumulatively across Twitter, Facebook and Instagram.
Twitch will work with each club initially on the production of behind-the-scenes content with the ambition of streaming live youth and friendly fixtures on the platform, as well as press conferences. The driver for these strategic partnerships is to help engage younger audiences by focusing on interactive content for digitally-native audiences.
Twitch's relaunch saw TwitchSports showcase a host of live programming, with the NBA, Arsenal and UFC, among others, allocated two-hour time slots to release interactive content. Amazon likely hopes that incorporating sports into Twitch's ecosystem will not only attract digital migrants – primarily sports fans – to the platform, but moreover solve rights holders' primary issue stemming from COVID: the need to engage with a largely untapped audience, ensuring long-term sustainability. Leveraging rights holders' strategic need to building out digital engagement could position Amazon as the go-to partner come 2021, when the 'D-day' for sporting rights begins with the next round of premium domestic rights cycles commencing.
Trending