The Show Must Go On – NFL Throws Screen Pass at COVID-19 with NFL Draft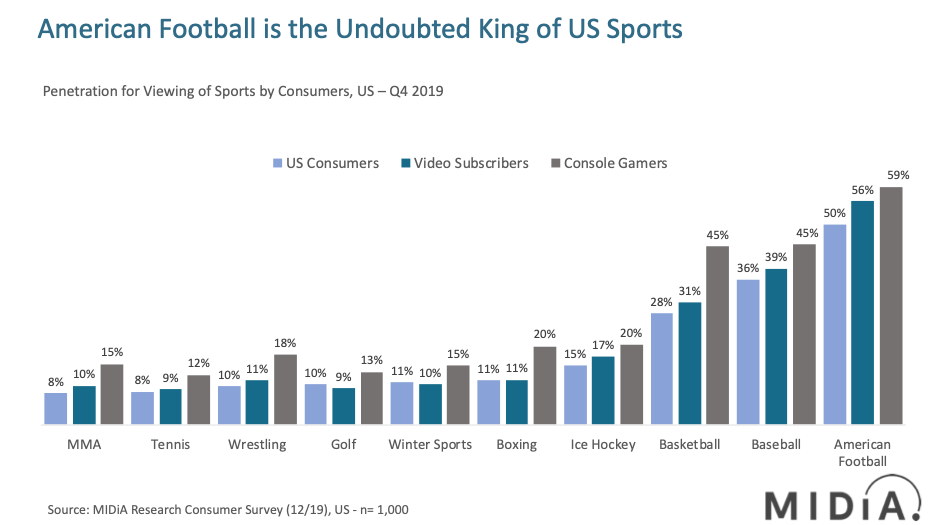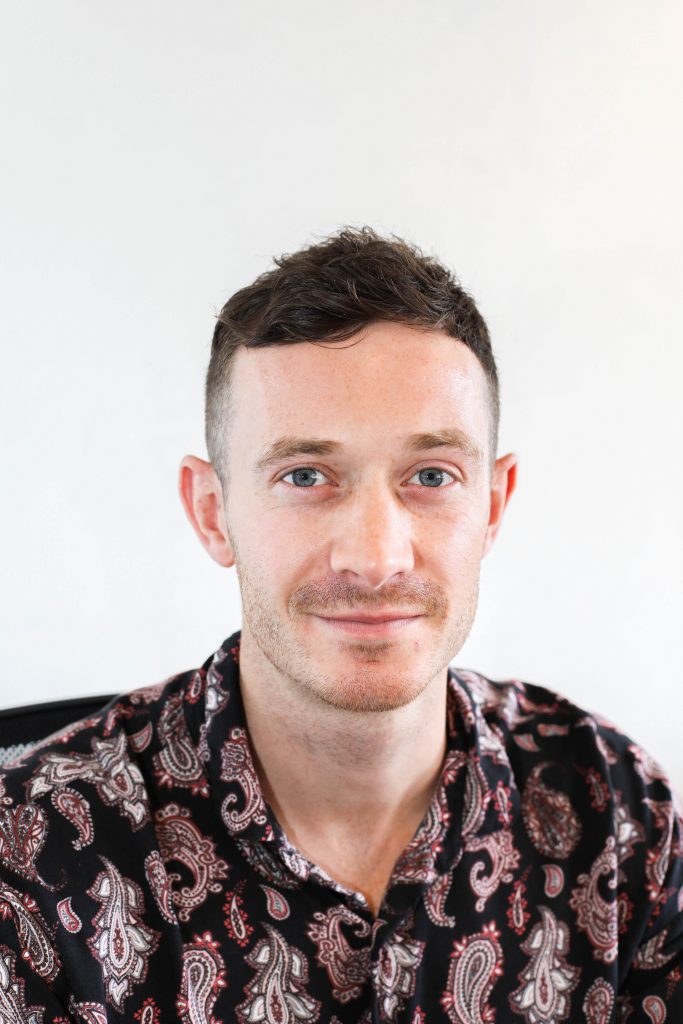 The NFL's commissioner Roger Goodell announced to all 32 teams in a memo on March 26th that the NFL draft will go ahead as scheduled from the 23rd to 25th of April, despite growing pressures resulting from COVID-19 to postpone the event.
In the memo, the NFL announced the cancellation of all public events, and a withdrawing of event invites to prospects and their families. Instead, however, the NFL will conduct draftee interviews via video conference, and televise the draft in a way that reflects the current conditions. The NFL, already a digital pioneer with its social strategy, is keenly aware of  the demand for keeping this spectacle on for the fans who have been starved of all other significance sports events since mid-March.
This NFL draft will be like no other. Prospects this year will not have the usual opportunity to improve upon or showcase their athletic prowess at their college pro days due to the social distancing measures in place across the US. Teams are concerned that they will not have the ability to carry out thorough due diligence on prospects ahead of the draft. In order to contain the virus, travel restrictions are forcing team scouts and general managers to work remotely while obeying social distancing regulations. Not only this, but team doctors are not able to carry out physicals on prospective draftees and team executives are unable to conduct face-to-face interviews with prospects, typically done during pre-draft visits at college campuses or team headquarters.
With each draft having such significance for every teams future, teams will have already carried out the majority of their research on prospective draft picks well before COVID-19 reared its head in the US. Scouting personnel will have attended hundreds of college games and spoken to prospects at not only the week of the combine but also the Senior Bowl, which sees the top draft prospects who have completed their college eligibility compete in an all-star game at the end of January.
NFL demand currently exceeds supply
Since the NBA postponed its season indefinitely, acting as the catalyst for other major leagues to do the same, sports fans have been starved of the adrenaline rush that live sports delivers in abundance. The NFL is capitalising on this lack of live sports by delivering the draft as scheduled. Typically, in the US March and April offer fans a host of live sports including March Madness, the start of the MLB season as well as the start of the NBA and NHL playoffs. Now faced with none of these high-profile events, the NFL will look to drum up interest while carrying on in the face of adversity, delivering to fans the highly-anticipated annual draft while they have nothing else to watch.
 Hold it high and tight – the NFL must look to avoid a social fumble
The NFL does however need to consider the potential health ramifications of going ahead with the NFL draft during a time of enforced social distancing. Holding the draft, typically a social extravaganza behind closed doors, could encourage locked-out fans to congregate in groups to watch the three-day event – thus potentially and indirectly creating high-risk infectious environments. In Germany, for example, staging Bundesliga games in stadiums closed to the general public resulted in 'ultras' turning up in droves outside behind the stadiums, expecting to be able to be let in to celebrate with comrades.
It is a crucial time to build on digital engagement for rights holders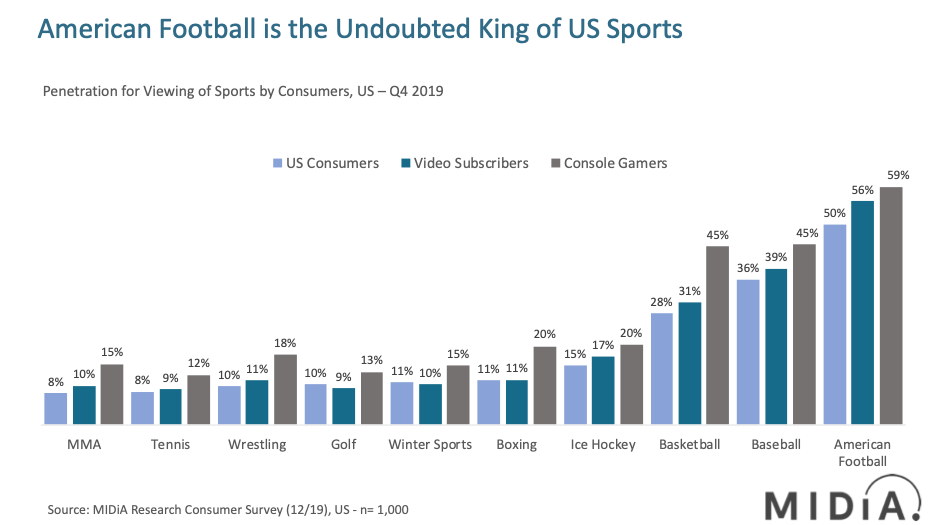 American football dominates the competition for engagement in the US, accounting for 41 out of the top 50 broadcasts in 2019 for viewership. 50% of aged 16+ US consumers watch American football (source: MIDiA Research consumer Survey Q4 2019), 14 percentage points higher than baseball and 22 points higher than basketball. With penetration highest among console gamers at 59%, the NFL's decision to foray into e-sports in the current climate where fans are stuck indoors makes strategic sense.
Earlier this week, the NFL announced a deal with Fox Sports for a Madden NFL e-sports tournament, hosted by ex-Madden cover star and former NFL player Michael Vick. The pandemic-enforced absence of live sports has seen rights holders presented with growing opportunities to introduce their e-sports operations to the major networks. The NFL broadcast came a week after Fox Sports aired Nascar's iRacing series event to 900,000 viewers on FS1 and the Fox Sports app.  The majority of these viewers are e-sports fans first. Therefore, a whole new audience is now engaging with the Nascar franchise through this format-unifying partnership – highlighting the possibilities for innovation to reach new audiences through bringing digital-first audiences to traditional sports. In the current heightened digital entertainment engagement landscape, maintaining relevance for their fanbases is paramount for rights holders. The existential risk for sports is the danger of becoming digitally marginalised through lack of new content engagement in a peak attention economy.
With the length of this global pandemic and postponement for most sporting events still unclear, it is crucial for rights holders to focus on building digital engagement beyond their pure-play broadcasting of live events. The NFL has more pressure than its competitors to maintain its position as the world's most valuable league; hence, it is leveraging the hype surrounding the draft ahead of its scheduled season start in August. However, with a quarter of the world currently in lockdown, it must proceed with caution during this sensitive and uncertain climate, where any communication missteps could have long-lasting ramifications.
Trending