The Global Music Industry Will Decline in 2020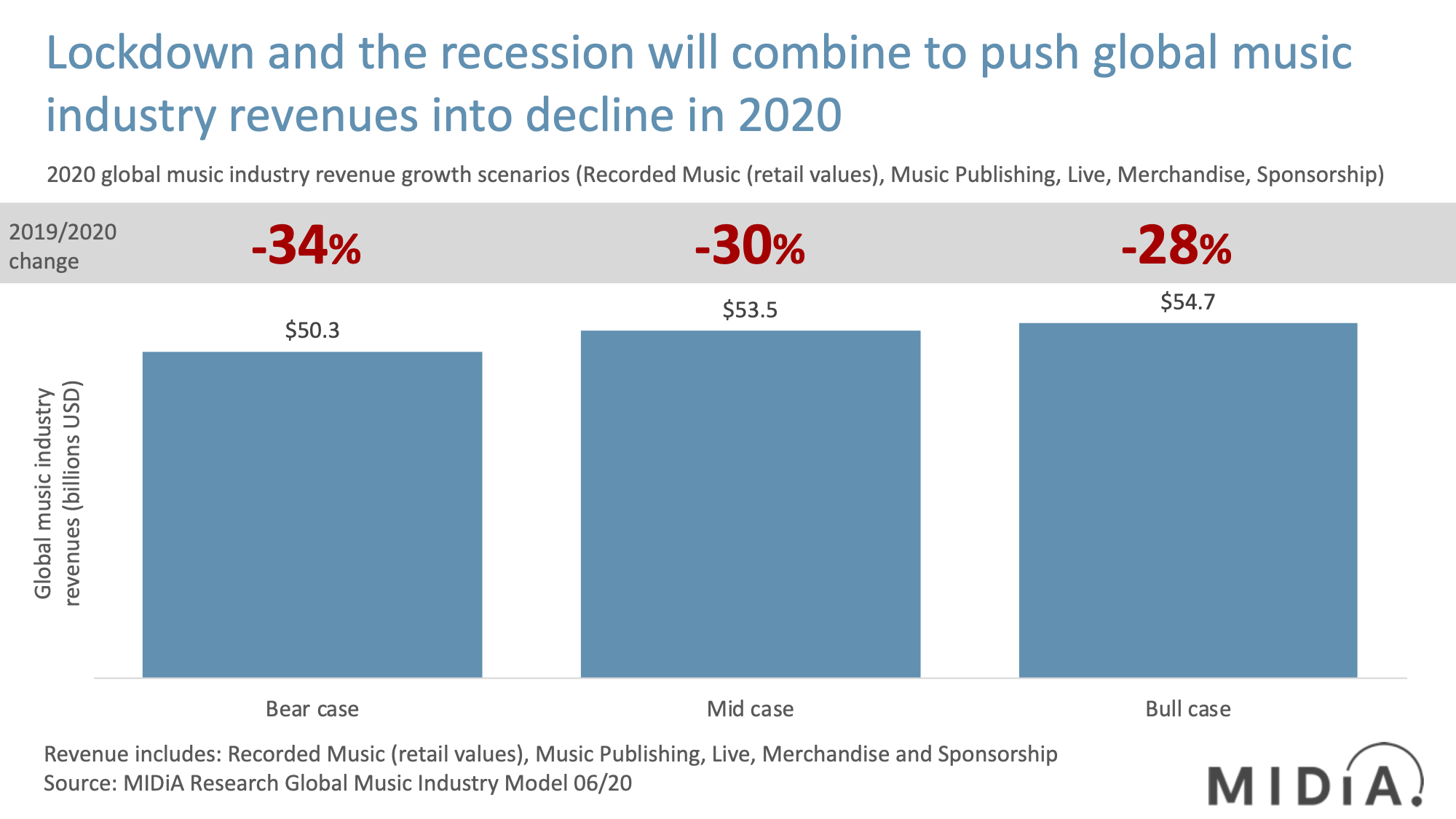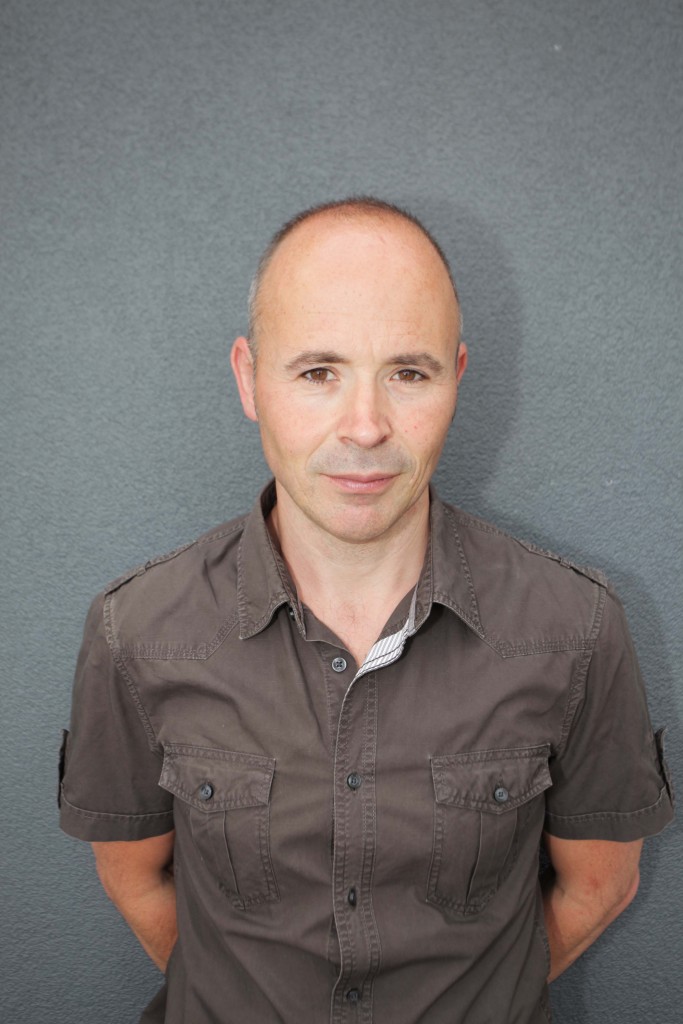 Sorry to be the bearer of bad tidings but the global music industry will decline in 2020.
Although we are now nearing the post-lockdown era in many countries across the globe, we are only just at the start of the recession phase that is coming next. Over the coming months we will start to see concrete examples of the downturn (including Q2 financial results) that will transform the recession from an abstract possibility into something far more tangible. 
Although live music is the most obviously impacted, all elements of the music industry will be hit. In a forthcoming MIDiA client report we will be publishing our detailed forecasts of exactly what this impact could look like. In this blog post I am sharing some of the top-level trends.
In order to forecast recessionary impact on music revenues MIDiA broke down all of music's sub-industries (recorded, publishing, live, merch, sponsorship) and all relevant sub categories (streaming, sync etc.), and then divided these into the financial quarters of the year. We then modelled the impact of lockdown, longer-term social-distancing measures and the recession on each of these quarters. We then put this model through bear, mid and bull cases. The sum totals are what you see in the chart above. In all cases, the Q2 decimation of live revenue and the subsequent slow clawback in the remainder of 2020 account for the majority of the decline.
Featured Report
The Rising Power of UGC
About this report Audible Magic has commissioned MIDiA to produce a White Paper on the rising power of UGC and the untapped opportunity to monetise the growth in UGC consumer behaviours and new platforms....
Find out more…
In our mid case (i.e. what we consider to be the most likely case) we forecast a 30% decline on 2019 revenues with the following sector-level changes:
Recorded music (retail values) +2.5%
Publishing -3.6%
Live -75%
Merch -54%
Sponsorship – 30%
This is how we are thinking about each sector:
Recorded music: Music streaming will be far less affected by a recession than many other sectors. But under no circumstances is it immune, and ad supported in particular is anything but 'resilient'. When the recession bites, consumers will cut discretionary spending, including subscriptions. We expect the increase in existing music subscriber churn to be relatively modest but the growth of new subscribers to slow in markets hardest hit by a recession. Unfortunately, millennials – streaming's heartland – are the most vulnerable to job cuts. Ad supported is going to struggle whichever way you look at it. Spotify was struggling to make ad supported work even before the recession, while Alphabet was seeing a weakening Google ad business even last year. But it is the other parts of the labels' businesses that lockdown has hurt most so far: physical sales due to store closures; sync due to the halt in TV and film production; performance due to store and restaurant closures. Q2 revenues could average out at between -2% and +1.5% up on Q1. If the recession deepens significantly in the second half of 2020, the combined effect of higher unemployment and reduced consumer spending could result in a worst case scenario of -4.0% annual growth for recorded music. If the economy recovers in 2021, recorded music revenue will return to growth also.


Publishing: Music publishing has been a steady earner for so long and as a consequence has enjoyed an influx of investment in recent years. 2020 though looks set to be a year of revenue decline. Our base case is for a -3.6% change on 2019. Key to this are: reduced syncs due to the halt in filming; reduced performance royalties due to a) live music decline; b) commercial radio declines; c) retail and leisure closures. Physical mechanicals, though small, will be hit by store closures. If the economy recovers in 2021, music publishing revenue will return to growth also, though performance revenues will see long-term transformation due to changes in lifestyles, e.g. more homeworking means less commuting (less radio) and less time spent in urban centres (less retail and leisure) both of which impact publisher income. If the economy recovers in 2021, publishing revenue will return to growth also.
Live: Even if live events can be put on in Q3, reduced capacities and some venues not being able to operate at all will mean that live revenue growth will be a slow clawback – a process that will run into 2022 and that will only be partially offset by the (much needed) growth in virtual event revenue.


Merch: Although there have been some great merch success stories during lockdown (including veteran UK synth poppers OMD selling £75,000 of merch during one live stream) merch sales are so often closely tied to live. Once the lockdown bump is over, the natural cycle of merch sales will remain disrupted by live's slow clawback.


Sponsorship: Artist sponsorship will be hit by brands scaling back their marketing budgets as the advertising economy contracts.
In addition to the forthcoming MIDiA client report we will be exploring these themes and others in our free-to-attend webinar next week: Recovery Economics: Bounce Forward Not Back. Register here.
Trending