The attention recession has hit Spotify too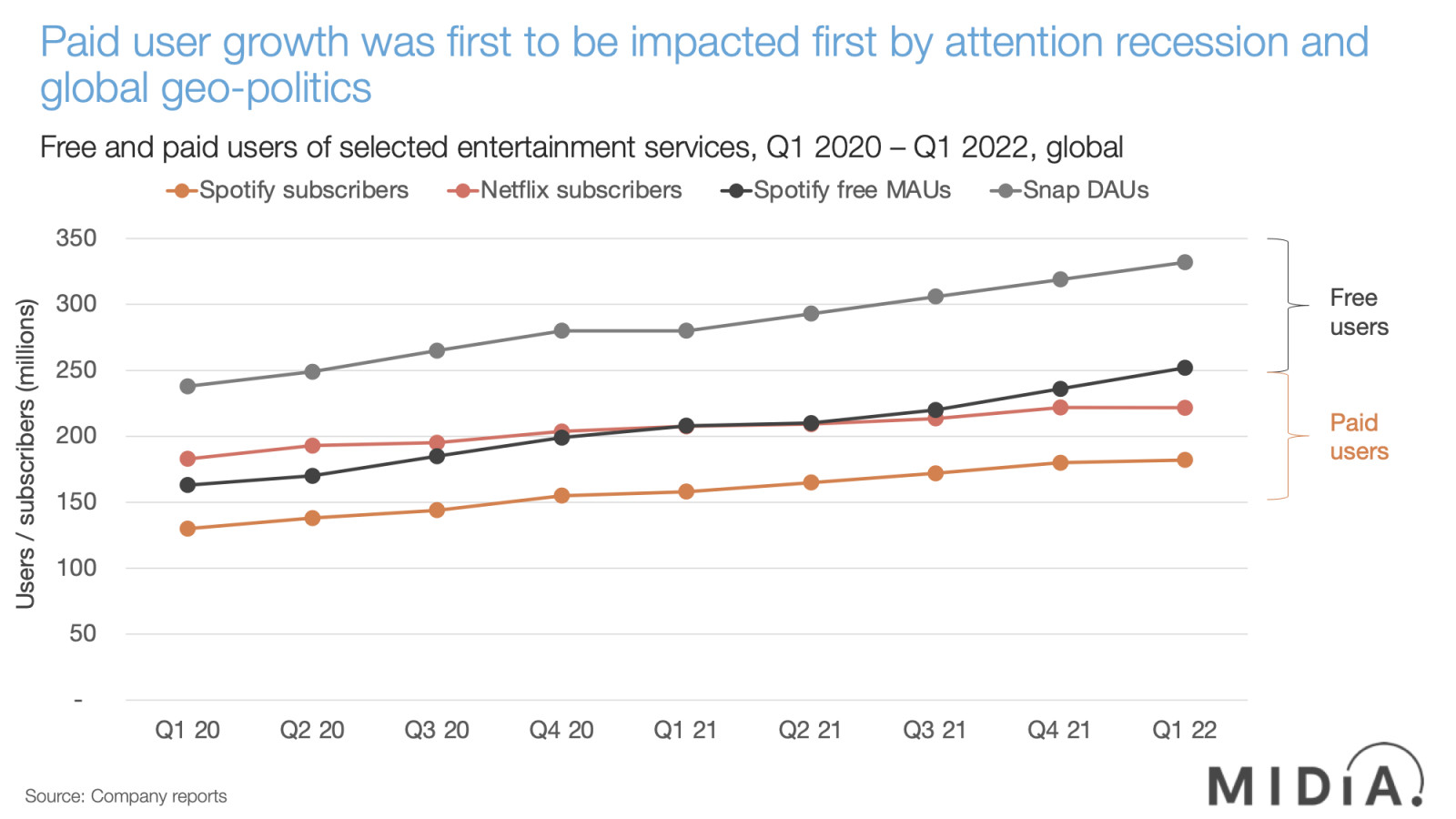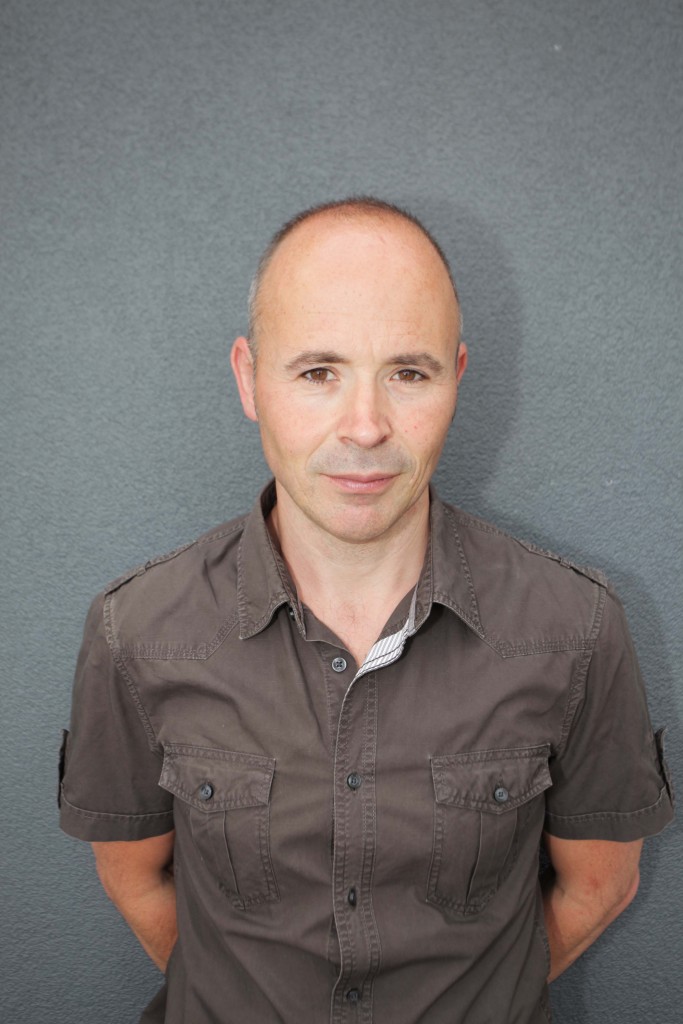 Spotify added two million subscribers in Q1 2022. Yes, this incorporates the impact of 1.5 million lost Russian subscribers and is set against Netflix having lost 0.2 million subscribers over the same quarter. But while Spotify did well to not suffer the same fate as Netflix, it was not able to buck the broader trend affecting the entertainment market: the attention recession. The attention recession is the combined impact of: 1) the end of the Covid entertainment boom (consumers have less time and money as pre-pandemic behaviours resurface); 2) economic headwinds (rising inflation and interest rates), and 3) the geo-political situation (the Russo-Ukrainian war). Spotify's Q1 earnings provide further early evidence of the attention recession's impact. Spotify's earnings were shaped by all three.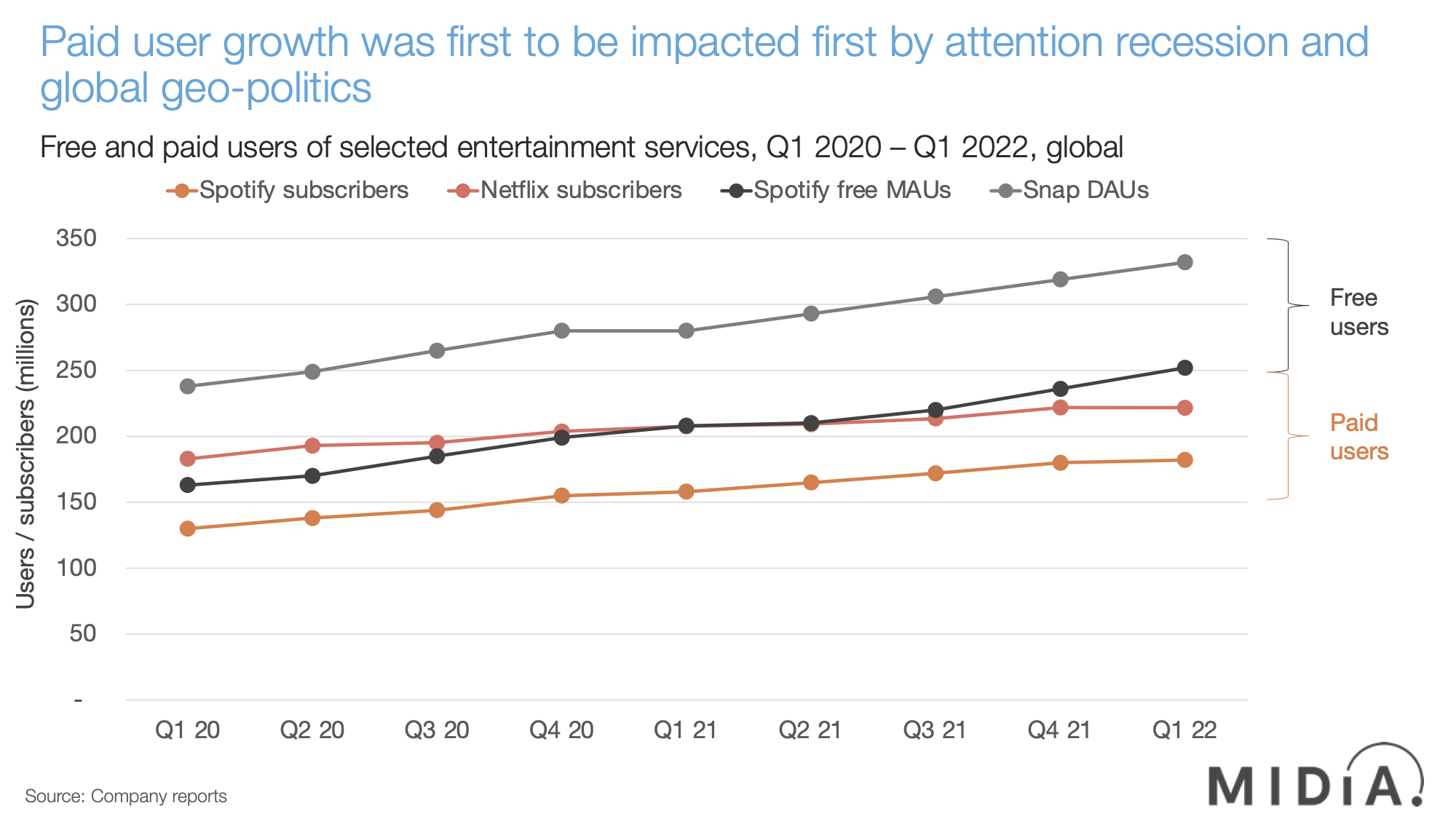 Looking at the ad-supported and paid users of a number of leading digital entertainment companies that have already reported their Q1 2022 results, a clear trend emerges: paid user growth slowed in Q1 2022, while free users continued to grow strongly. With consumers having less time on their hands and less money in their pockets, free is growing faster than paid.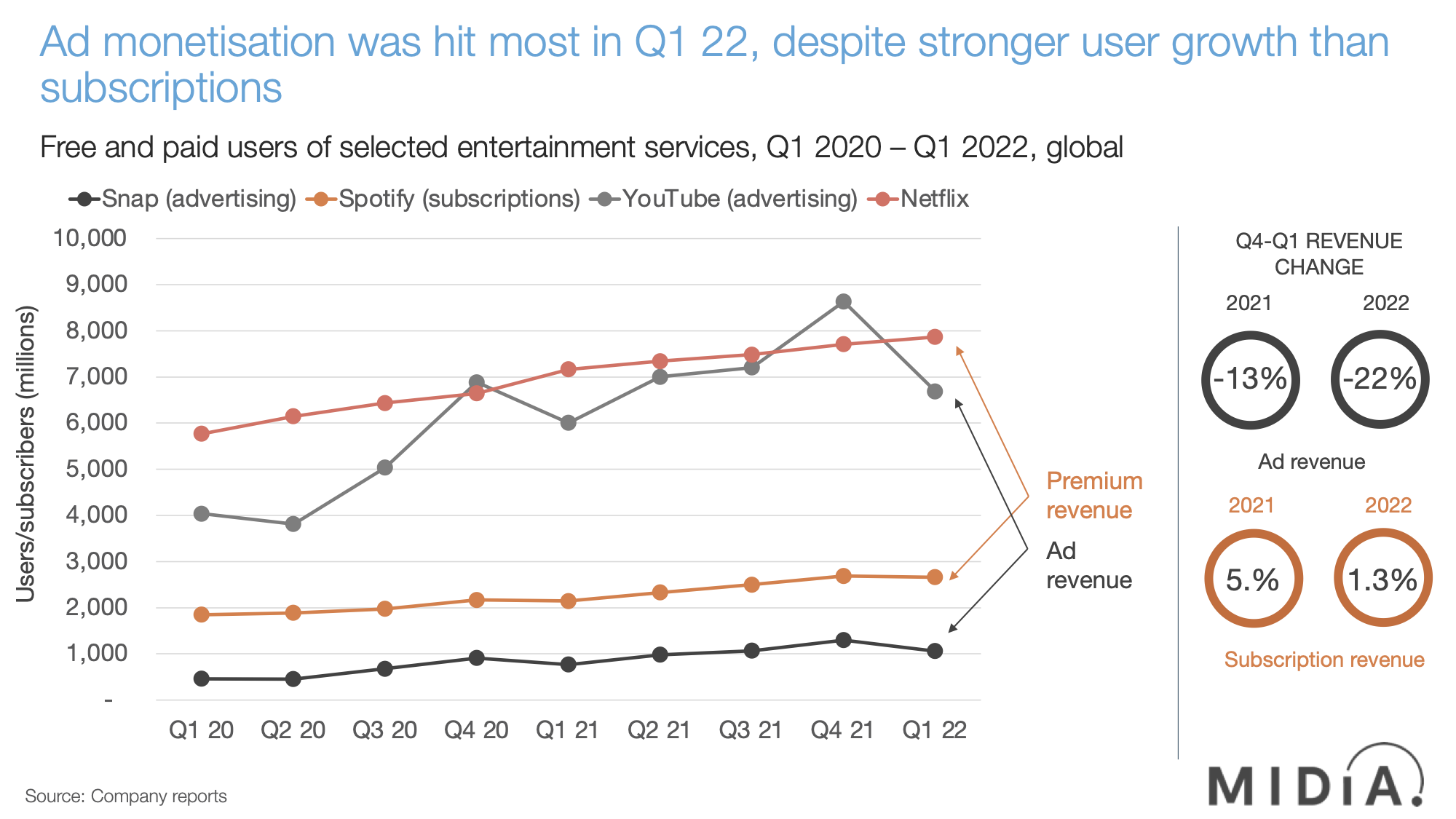 Entertainment monetisation trends followed an almost mirror opposite of user behaviour. The first quarter of every year is typically down from the preceding fourth quarter for ad businesses, with the Q4 advertiser spend surge receding. Yet the declines in Q1 ad revenues for Snap and YouTube were both significantly bigger in 2022 than in 2021, with a combined drop of 22% compared to 13% the year before. Snap's Evan Spiegel even went on record to explain just how problematic a quarter Q1 2022 had been and how there are growing concerns about the outlook for ad spend. This is because, as consumers have less disposable income, they buy less, which means advertisers get lower returns on their spend. Ad revenue is most often an early victim of a recession.
Conversely, Q1 2022 subscription revenues were up slightly, though much less so than in Q1 2021, and Spotify's premium revenues were down 1%. Nonetheless, the key takeaway is that subscription monetisation was less vulnerable in the first phase of the attention recession. While free services and tiers benefited from incoming cost-conscious users, they were not able to harness the shift commercially. 
As MIDiA said back in 2020, all companies were going to feel the impact of the attention recession, which we identified was imminent following the pandemic. It is a case of simple arithmetic: more time and more spend during the pandemic benefited all companies. Post-pandemic, both of those increases recede, which means that all entertainment companies have to fight hard to hold on to their newly-found boosts to revenue and users, let alone grow. When we made that prediction, it was before the additional elements of economic and geo-political trends raised their heads. Rising inflation is going to hit all consumers' pockets (with food and fuel prices being particularly hit), forcing many households to make trade-offs between essentials and luxuries. 
Though Spotify's move to wind down Russian operations was admirable, it illustrates how the impacts of the Russo-Ukrainian war on digital entertainment will be both varied and far reaching, not least because of its impact on inflation due to its disruption of global food and fuel supplies. 
We are living in 'interesting times' and the future is always uncharted, but especially so now. 
Trending