Streaming Music Health Check Deep Dive: Trial Hopping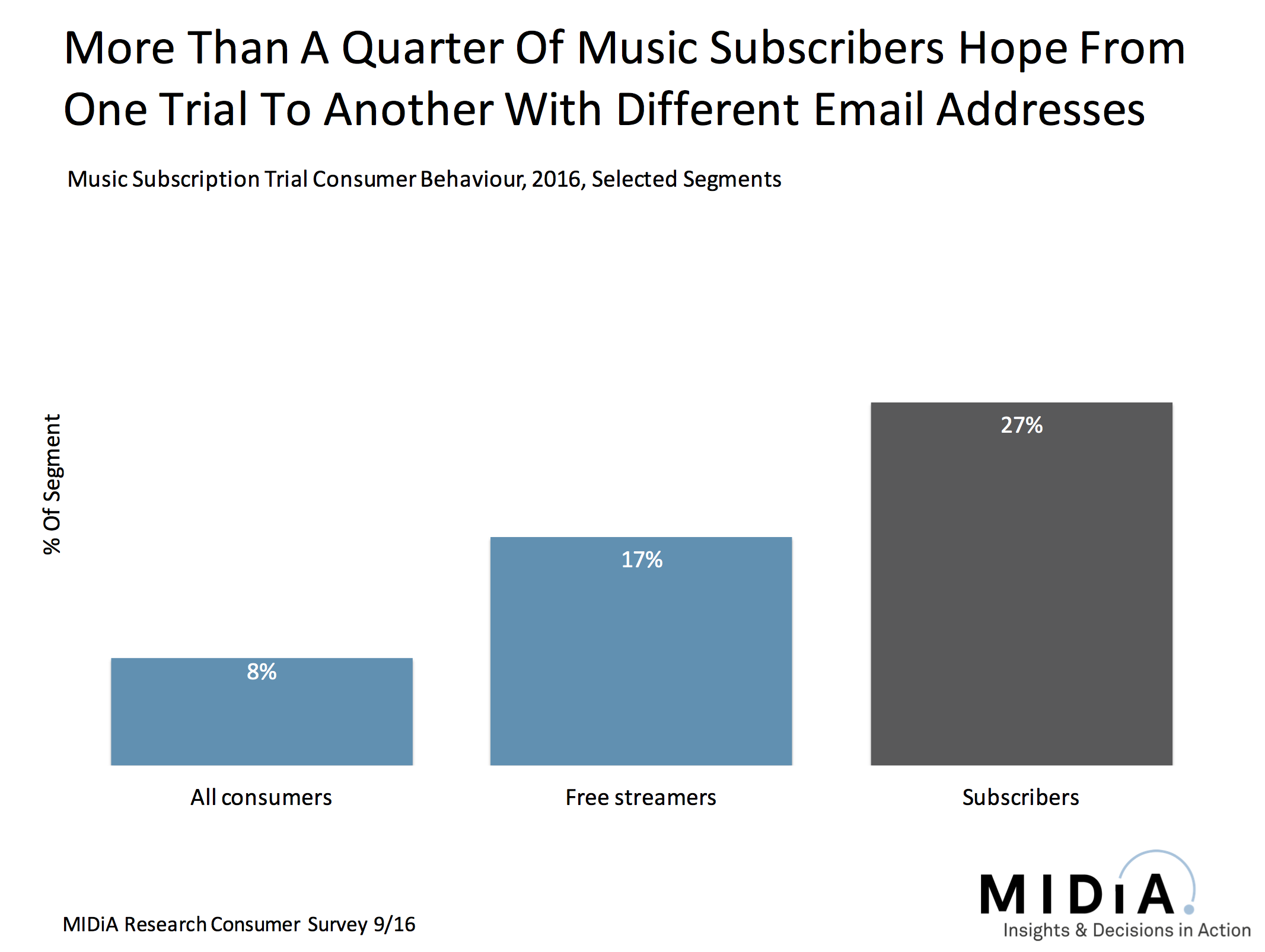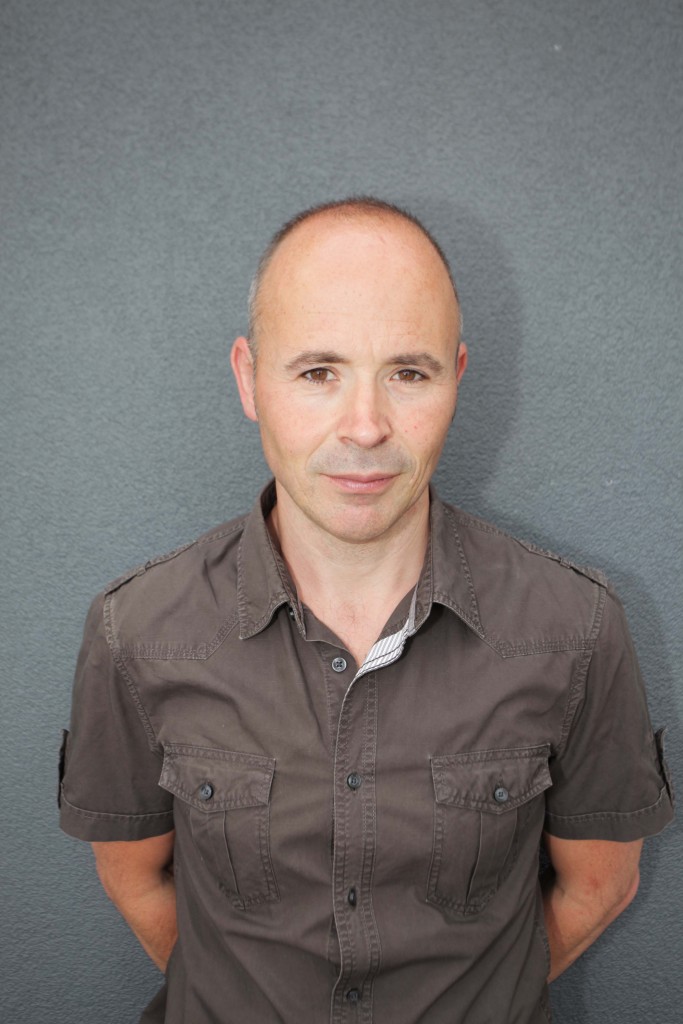 At MIDiA we have just published our latest streaming report: 'Streaming Music Health Check: Streaming's Watershed Moment'. In it we combine the latest streaming revenue data, subscriber numbers and consumer data to create the definitive assessment of where the streaming music market is now at. The report and accompanying dataset is available to MIDiA Research clients here. For more on how to become a MIDiA client to get access to this report email us at info AT midiaresearch DOT COM
The full details of the report and key findings are listed below, but here's a small excerpt from the report exploring the issue of trial hopping.
Free trials are a crucial means of converting streaming users to paid subscriptions, especially when deployed with auto opt-in billing. Although often close to half of these opted in users cancel after their first payment (ie immediately after they realize they have been billed), trials are a proven conversion tactic. That is, until users game the system by hopping from one free trial to another by simply signing up with multiple different email accounts. In the case of Apple Music (which has a 3-month free trial), this means that a user can get a full year's worth of music by simply changing email address (and iTunes account) three times.
Although this phenomenon is fairly niche across the total population, more than a quarter of respondents that identify themselves as music subscribers do this according to MIDiA's latest consumer survey data (fielded in September). This means that in a worst-case scenario, between a fifth and a quarter of music subscribers are in fact freeloading trialists hopping from one trial to another.
Nearly a fifth of subscribers also use free trials to get access to exclusive albums. Combine this with email hopping, and Apple and Tidal may find their exclusives strategies are less effective at winning over Spotify subscribers than they had hoped.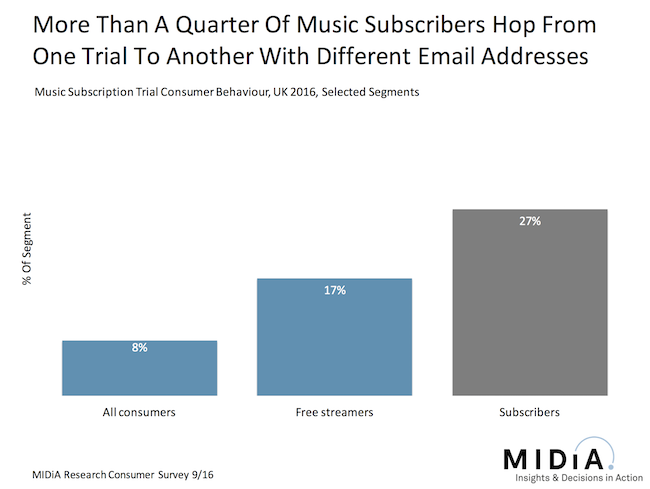 Key Findings (data points have been removed from this preview but are included in the full report):
By September 2016, Spotify had X million subscribers while Apple had X million

Competition is hotting up with announcements from Amazon, Pandora and Vevo

Each of the three major labels experienced strong streaming year-on-year revenue growth in Q2 2016: Sony (X%), Universal (X%) and Warner (X%)

In Q2 2016, major label download revenue fell by $X million quarter-on-quarter

Subscribers rose from X million in Q2 2015 to X million in Q2 2016 with Spotify and Apple driving the growth

X% of all streams were mobile, rising to X% for Napster

X% of all streams come from playlists, however, just X% come from push playlists

X% of UK subscribers say that playlists are replacing albums, while X% are using curated playlists more than 6 months ago

Just X% of Swedes spend more than $10 on music, reflecting that subscriptions have capped spending of super fans

X% of subscribers have changed subscription service, falling to just X% in Sweden thanks to Spotify loyalists

X% of UK subscribers sign up to multiple streaming trials with different email addresses, while X% use free trials to get access to exclusive albums
Companies mentioned in this report: Alphabet, Amazon, Anghami, Apple, Beatport, Deezer, Google, iHeart, KKBox, Last.FM, MelOn, MP3.com, Napster, Orange, Pandora, QQ Music, Rdio, Sony Music, SoundCloud, Spotify, Tidal, Universal Music, Vevo, Warner Music, YouTube
Report Details
Pages: 16
Words: 3,985
Figures: 8
For more on how to become a MIDiA client to get access to this report email us at info AT midiaresearch DOT COM
Trending