Peacock Goes for Gold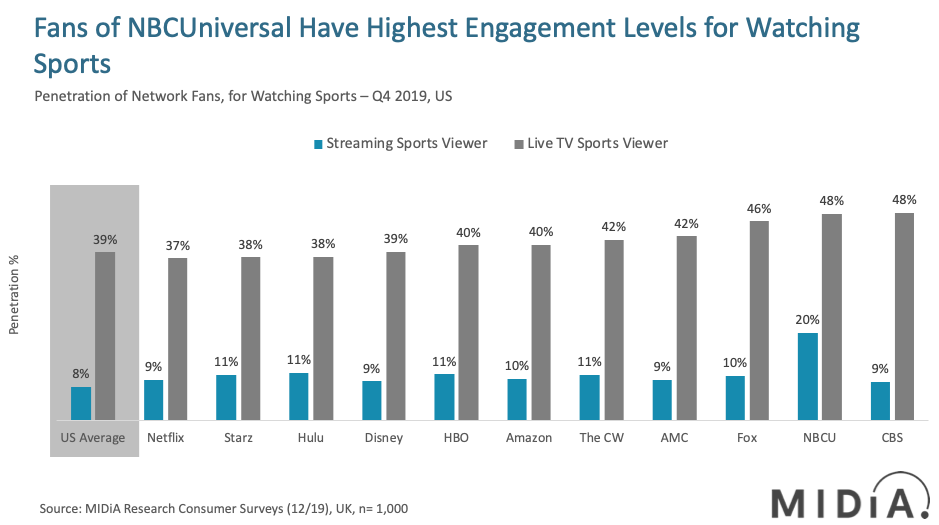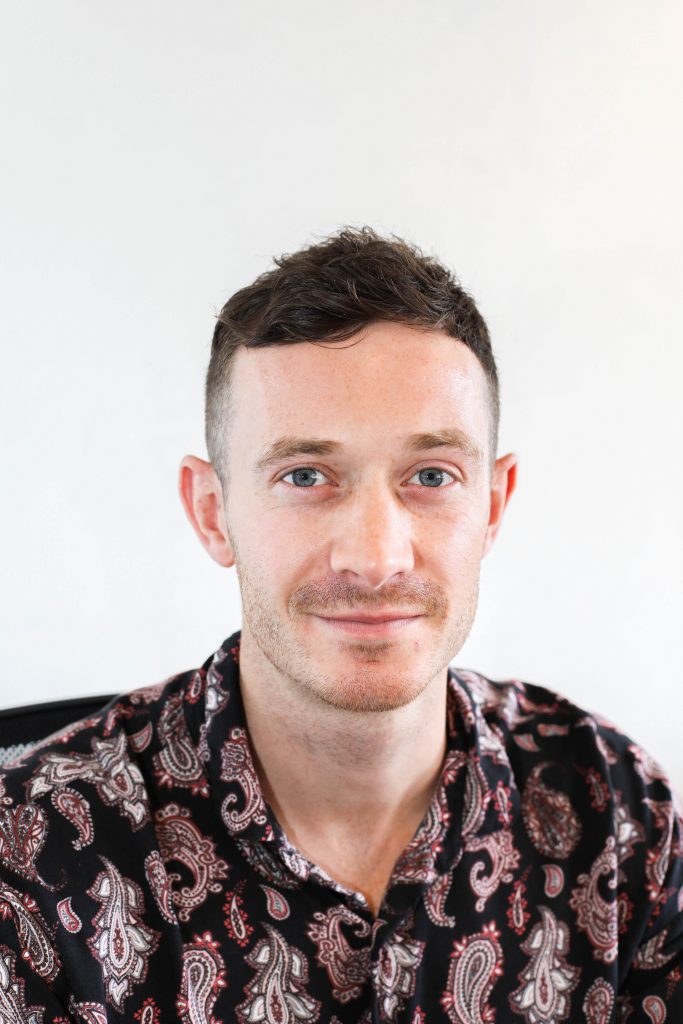 On the 16th of January, Comcast (owner of NBCUniversal) unveiled further details of its direct to consumer (D2C) proposition, Peacock. Peacock is set to debut on the 15th of April exclusively for Comcast's Xfinity X1 and Flex customers, before being rolled out nationally across the US on July 15th.
Not yet on the podium
Being somewhat late to the party, with Apple TV+ and Disney+ launching in Q4 last year, will by no means dampen Comcast's expectations for Peacock. Due to its possession of the second largest cable pay-TV business and largest broadband business in the US, with 28 million customer relationships as of Q3 2019, Peacock has the potential to pose the most significant disruptive threat to the more established services.
Multiple disciplines
Peacock Free will offer a free, premium ad-supported streaming service with ad loads restricted to five minutes per hour (compared to linear TV's 15+ minutes of adverts).
Peacock Premium will offer subscription tiers of $4.99 for access to an enhanced library of content and Peacock Originals and $9.99 for an ad-free premium experience. Premium is planned to deliver more than 600 movies and 400 series of scripted drama, as well as compelling live and on-demand content across news, sports, late night and reality TV.
Matt Straus, Peacock and NBCUniversal Digital Enterprises chairman, hopes to leverage this angle of bringing something unique and currently missing from today's marketplace:
"Peacock will provide consumers with a destination that goes beyond movies and television, aggregating a variety of content that fans want on one service."
Providing multiple tiers with a diverse content portfolio will increase its addressable audience through serving more use cases. In principle, this will aid Peacock's customer acquisition at a time when consumers are starting to have to rationalise subscriptions as we transition into the post-peak attention economy. In the post-peak era, growth will only come at the expense of others, and therefore justifying a subscription due to a wide range of content will put Peacock in a strong position as competition for subscription dollars and attention intensifies.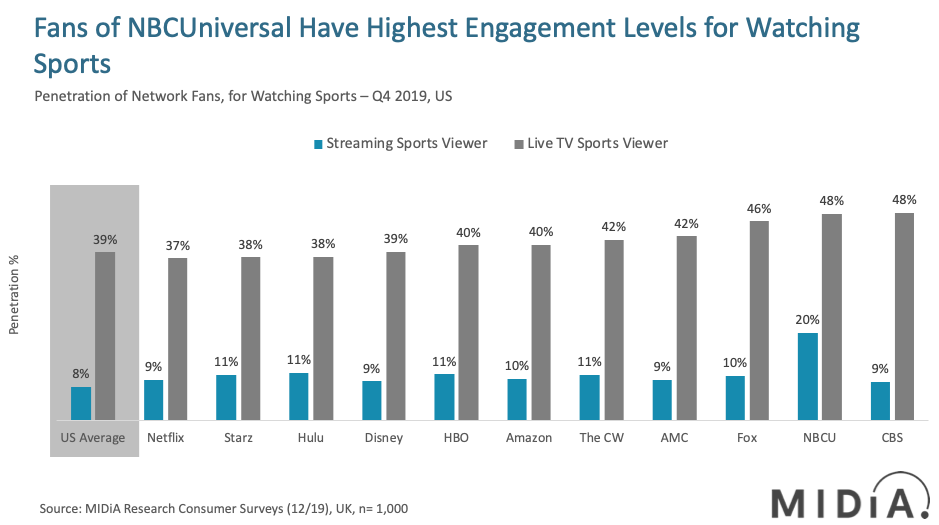 It is no accident the launch date coincides with the start of the 2020 Summer Olympics, starting July 24th in Tokyo. A relative outside shout for housing premier sporting rights, Peacock is incredibly well positioned to throw its hat in the ring for the 'D-Day' of sporting rights, starting in 2021 when premium domestic sporting rights come up for renewal. Fans of the Comcast's content division NBCUniversal (NBCU) are the most engaged with sporting content across the major US networks. 20% of NBCU network fans stream live sports as of Q4 2019, compared to 8% of the US average. Similarly, fans of NBCU over-index for watching live sports on TV, joint first with CBS fans, and nine percentage points higher than the US average (source: MIDiA Research Q4 2019 brand tracker data).
Back in 2011, NBC invested $12 billion for the exclusive US broadcast rights of the Olympics (for 10 summer and winter games) up to 2032. Piggybacking the biggest sporting event in 2020 with its own D2C launch is a strategic move in leveraging the hype around the games. Coupled with its English Premier League rights starting in August 2020 and Ryder Cup coverage complimenting its significant scripted-drama and film catalogue, Peacock has established an enticing full-stack proposition to consumers.
Pass the baton
One concern rightsholders have of sport-centric streaming services is the difficulty of retaining audience engagement while only offering scheduled live sports, which should place Peacock in a strong position due its diverse content portfolio. Looking at MIDiA Index's Q4 2019 show data, fans of sports series over-index for NBCU network fandom. Fans of All or Nothing and Last Chance U for instance are more than four times as likely to be fans of NBCU than the consumer average. Thus, having arguably the most popular sports series of all time within its catalogue, Friday Night Lights, will help strengthen Peacock's argument to rightsholders that it not only provides reach to an engaged sporting audience but also that it can drive fans to its service, even when the live sport is not being played. Comcast's acquisition of Sky will aid in developing existing relationships with premium rightsholders, especially when Comcast looks to roll out Peacock internationally – namely in Europe where Sky has a dominant presence and share of premium sporting rights.s
Demonstrating full-stack capabilities alongside leveraging its existing relationships with premium rights holders presents Peacock with a unique opportunity to carve out considerable market share when 'D-Day' for sporting rights arrives. Considering the prerequisites rights holders need to observe before awarding premium rights, Peacock has the financial resources, tech capabilities and reach to go the distance in the bidding war with legacy pay-TV distributors as well as the insurgent tech majors.
Trending