MIDiA music forecasts: the new era of growth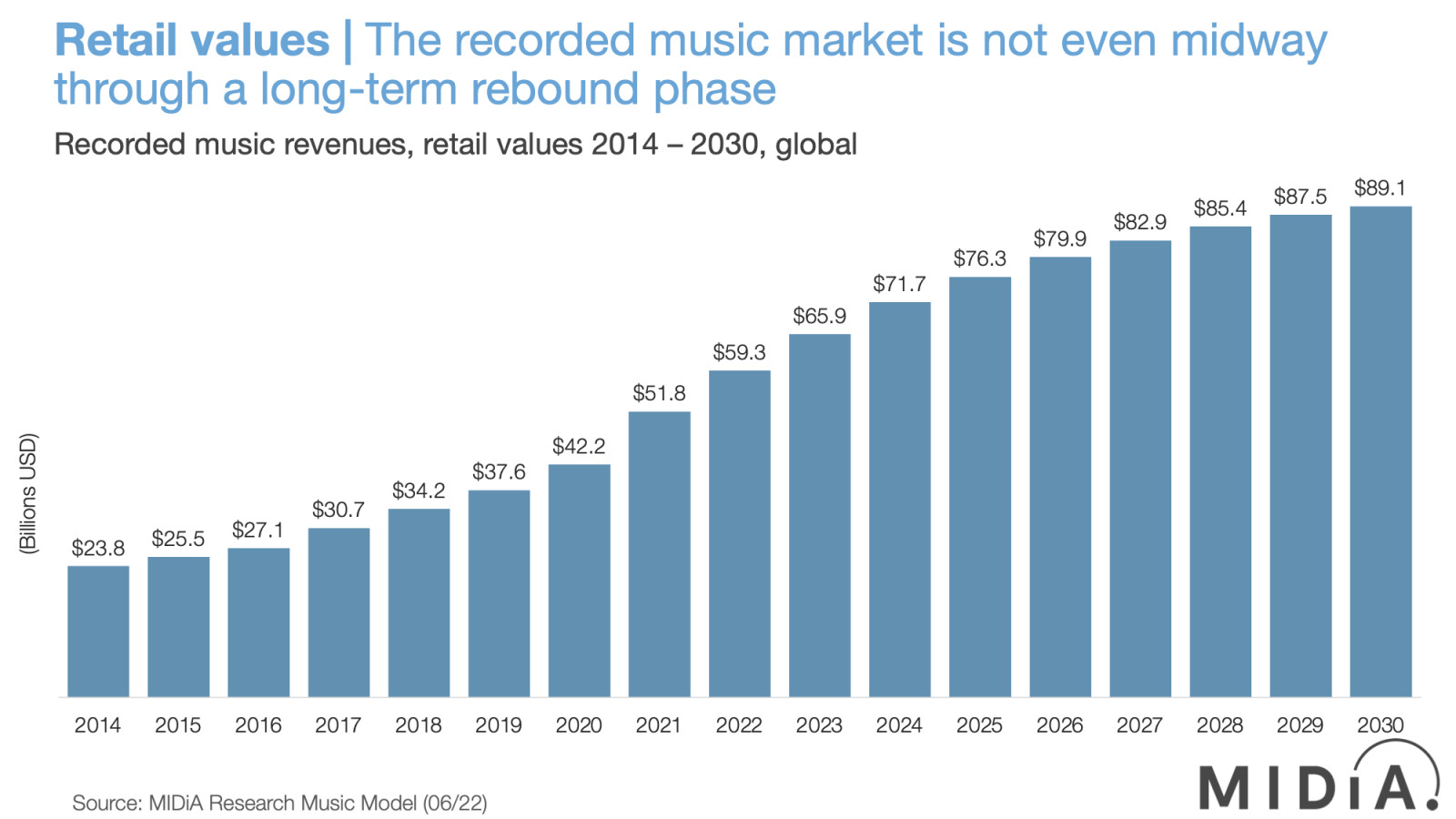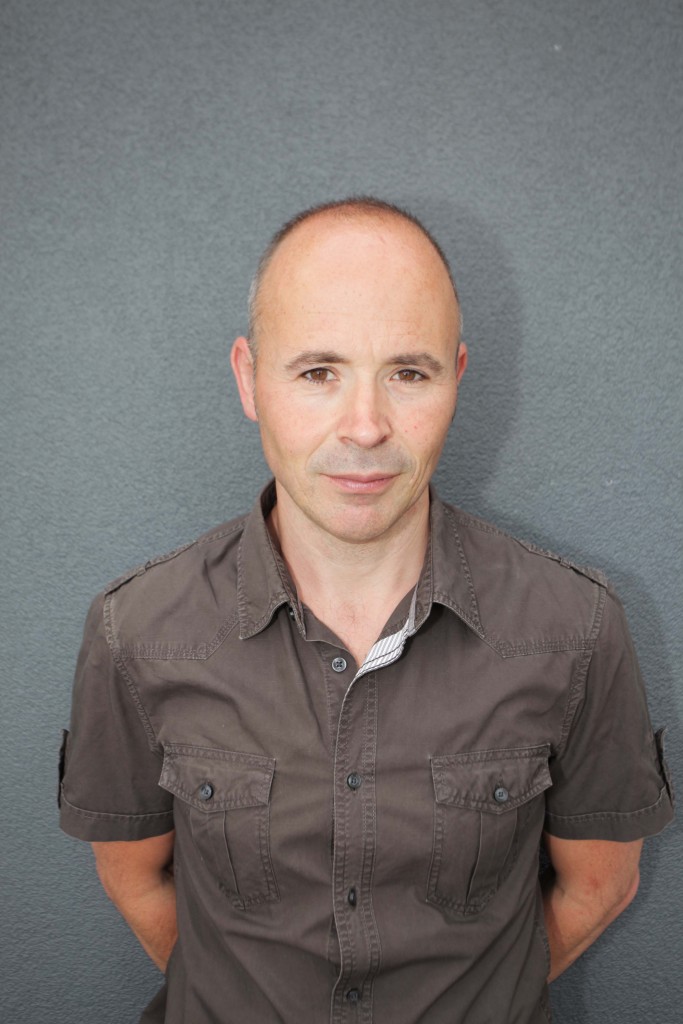 MIDiA has just published its latest music forecasts, available to clients in full here. Here are some of the highlights.
2021 was a huge year for the recorded music business with retail values up 23% to reach $51.9 billion (retail values include masters, publishing, and retailers / DSPs). Label trade revenue was up 20% to reach $22.9 billion. Part of the reason for the wide gap between retail and label growth was the rise of non-DSP streaming that sees a much higher share go to publishing than for DSP streaming. Non-DSP streaming was worth $3.0 billion in 2021 across masters, publishing, and platforms. Production music (a segment missed out of most other market estimates) was another strong performer, generating around one billion dollars.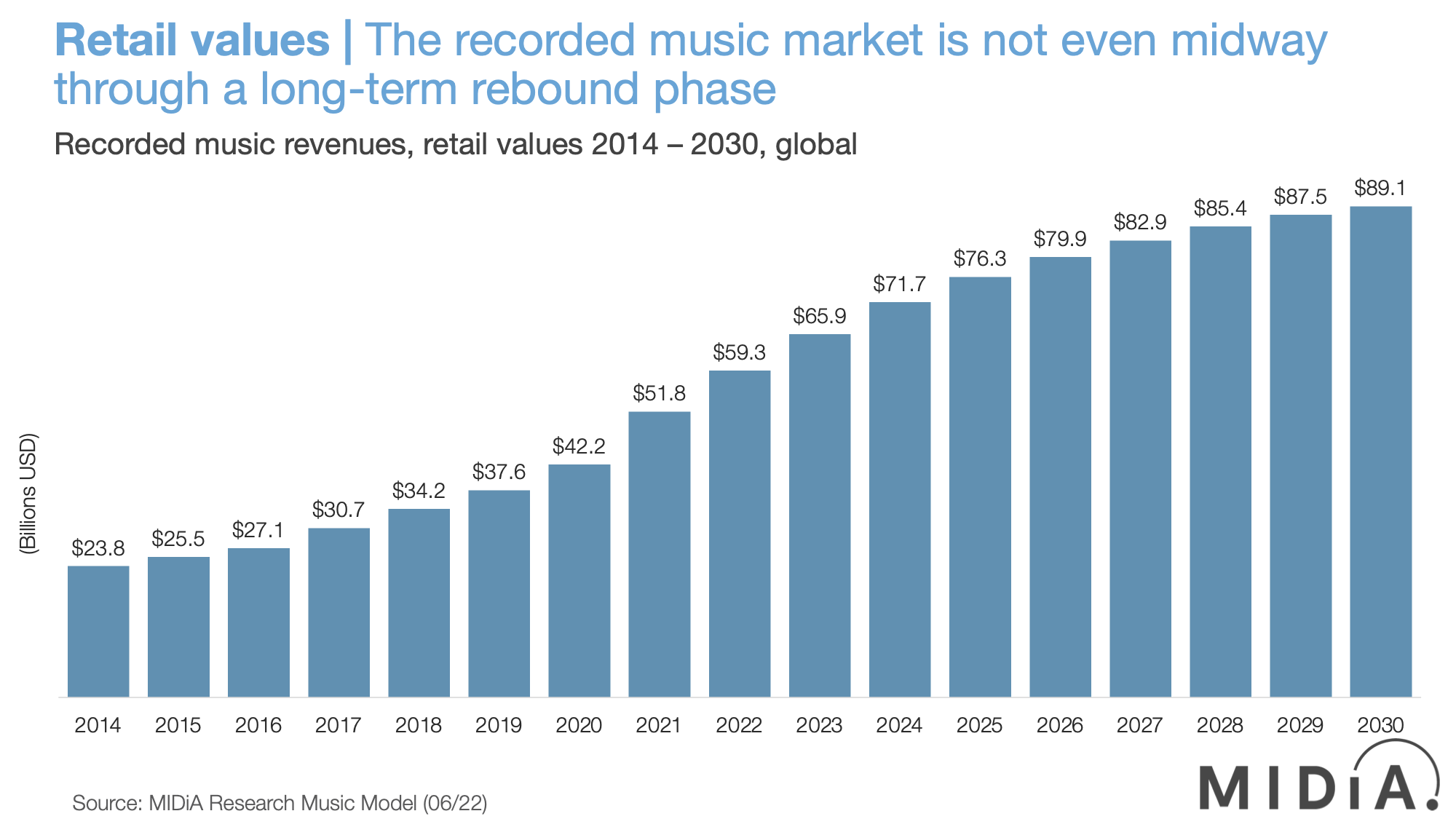 MIDiA forecasts global recorded music revenues to reach $89.1 billion by 2030 in retail terms. That is an increase of 72% on 2021. The $37.2 billion that will be added by 2030 will be more than was added between 2014 and 2021, meaning the music business is not even yet halfway through a long-term rebound phase. While there is a well-reasoned argument that music revenues are still not back to pre-Napster levels, the coming years should right that anomaly (rampant inflation permitting). 
Streaming will be 82% of 2030 music revenues and it is therefore streaming market dynamics that will underpin overall market growth: 
Subscriptions: Increased ARPU in Western markets and increased subscribers in emerging markets. Europe and North America will represent just 23% of subscriber growth between 2021-2030
Non-DSP: Emerging social, games, and metaverse platforms will offer new licensing opportunities. Non-DSP provides a licensing and business model framework for future emerging consumer technologies, such as Web 3.0, giving rightsholders crucial revenue diversification as subscriptions mature
Emerging markets: Asian markets in particular will become the engine room of subscriber growth. The Asia-Pacific region alone will have 0.5 billion subscribers by 2030. China accounted for 39% of global subscriber growth in 2021
The US: Even though the US will lose a share of subscriber growth by 2030 (due to China's growth), it will drive the largest share of subscription revenue growth and will remain the world's largest market by 2030 in revenue terms
Label trade subscriber ARPU will grow by more than 7% globally by 2030, lifted by price increases equivalent of 17%, but offset by reduction due to the growth of multi-user plans and a drop in label share.
Bull or bear?
With the influx of capital into the music business in recent years (IPOs, catalogue acquisitions, etc.) there is more attention on the space than ever. 2021 was the year in which the music business met those inflated expectations with exceptional performance, underpinned by the early fruits of a new and diversified commercial strategy that is ready to soundtrack the future of the web. 
It was a combination of these factors, forecasting non-DSP for the first time, and accounting for the exceptional performance of China in 2021, that led to MIDiA significantly increasing its forecasts by around 25%. We believe this significant increase (our biggest ever) reflects the new potential of the global music business as it enters a new chapter that will be shaped by non-DSP, Web 3.0, and emerging markets.
But – and it wouldn't be MIDiA without a 'but' – this bullish outlook coincides with the global economy on the brink of entering a tailspin. So, to be prudent, MIDiA's forecasts also include a detailed bear scenario dataset with label trade revenues slowing to just 3% for 2022, and from there, adding just another 14.3% by 2030.
We think this bear scenario is unlikely to play out, despite being within the realms of possibility. Should the global economy slow, then the likelihood is that while music will prove not be 'recession proof', it will neither be recession vulnerable.
If you would like to learn more about MIDiA's music forecasts email stephen@midiaresearch.com
Trending