Is YouTube MLB's Answer to Tap into Younger Audience?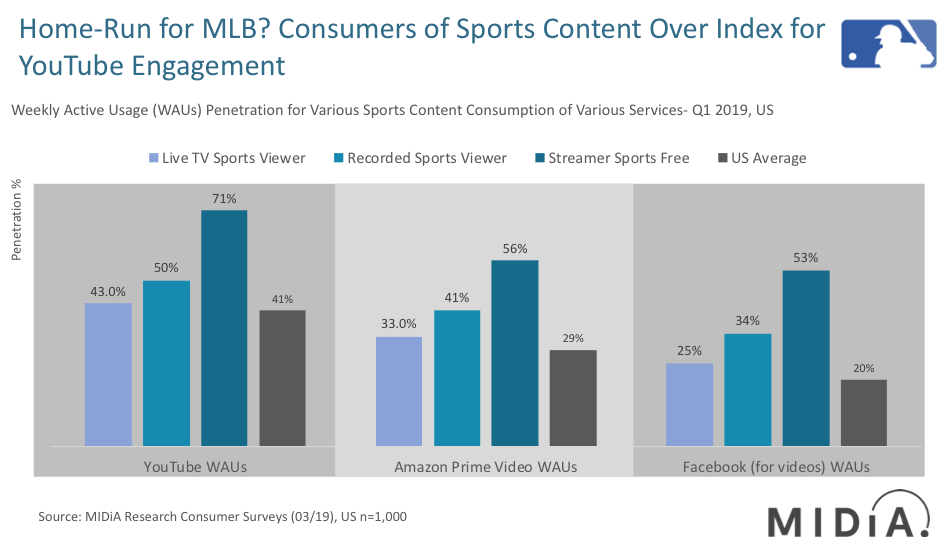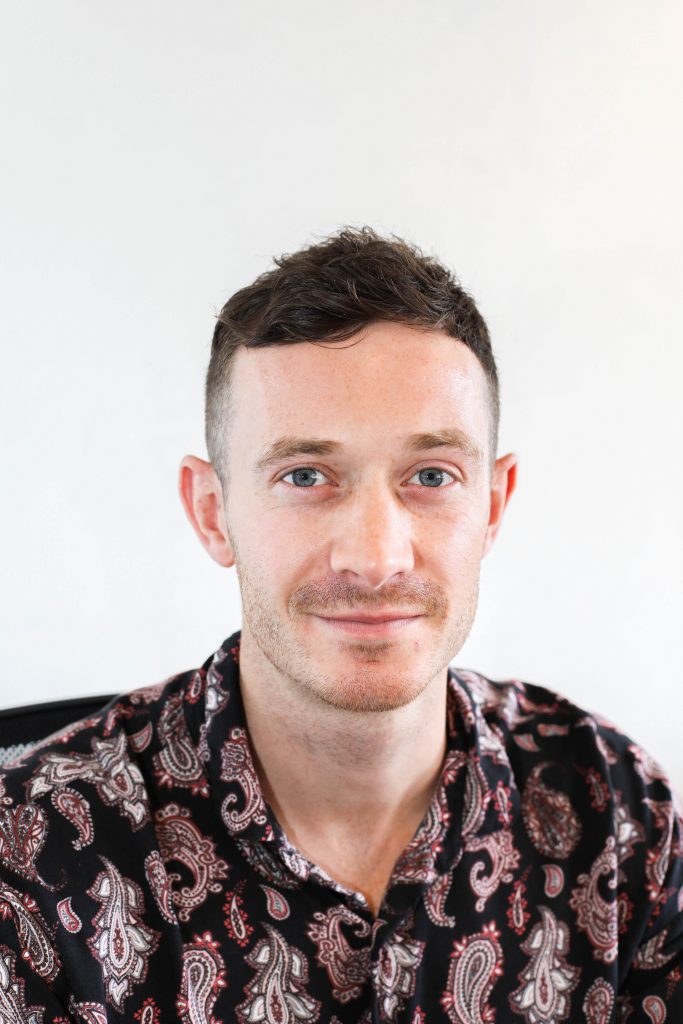 On July 18th, Google-owned YouTube livestreamed the first of its exclusive Major League Baseball (MLB) matches, acquired through a partnership announced with the MLB at the end of April 2019.
YouTube's first exclusive live game distribution deal with the MLB covers 13 games during the second half of the MLB's 2019 regular season. The rights package will be exclusively distributed in the US, Canada and Puerto Rico on the MLB's official YouTube Channel free of charge, but also via YouTube TV, Google's $50 monthly over-the-top (OTT) service.
MLB seeking the next-generation sports fan
Digital experimentation is nothing new for the MLB, licensing Facebook to live stream 25 exclusive games in 2018 via the social giants' Facebook Watch platform, and subsequently reducing that figure to six (non-exclusive) games for the current 2019 season for out-of-market fans. Then more recently, in November 2018, the MLB licensed the digital rights to the insurgent streaming service DAZN in a three-year deal. These deals illustrate the MLB's acknowledgement that content consumption has changed. With declining usage for linear and cable consumption of live sports, and the younger demographic migrating into digital ecosystems, it now seeks digital partners to test the appetite for live streaming MLB fixtures.
How will YouTube measure success?
MLB analytics data, provided to the Morning Consult by Google, showed that as of Friday 19th the game between the LA Dodgers and Philadelphia Phillies, which saw the Phillies come out on top in a tightly contested 7-6 victory, gained more than two million views for the MLB's channel and over 200,000 peak concurrent viewers.
The MLB channel itself has 1.9 million subscribers. Gaining 200,000 concurrent views means that the first game streamed exclusively on YouTube only achieved 11% penetration for engagement. Compare this to other recent viewing figures for free-to-air (FTA) sporting fixtures in a smaller market, and the MLB's viewership seems even smaller. 4.8 million people watched the ICC Cricket World Cup final in the UK on FTA Channel 4, following the ECB's decision to move the match from being exclusively behind Sky's paywall. The FIFA Women's World Cup semi-final match between England and the USA received a peak audience of 11.7 million viewers to witness the England Lionesses' agonising defeat. A US, Canadian and Puerto Rican audience of 200,000 will not please the MLB decisionmakers for its debut stream. However, it is clearly attempting to address the demographic cliff facing cable and pay-TV operators, with only 9% of those who watch sports on TV screens being between 16-24 years old (source: MIDiA Research). Because 32% of YouTube daily active users (DAUs) are from the same demographic, it therefore makes logical sense as to why the MLB has partnered with YouTube, thereby future-proofing its fanbase through targeting the digital audiences of tomorrow.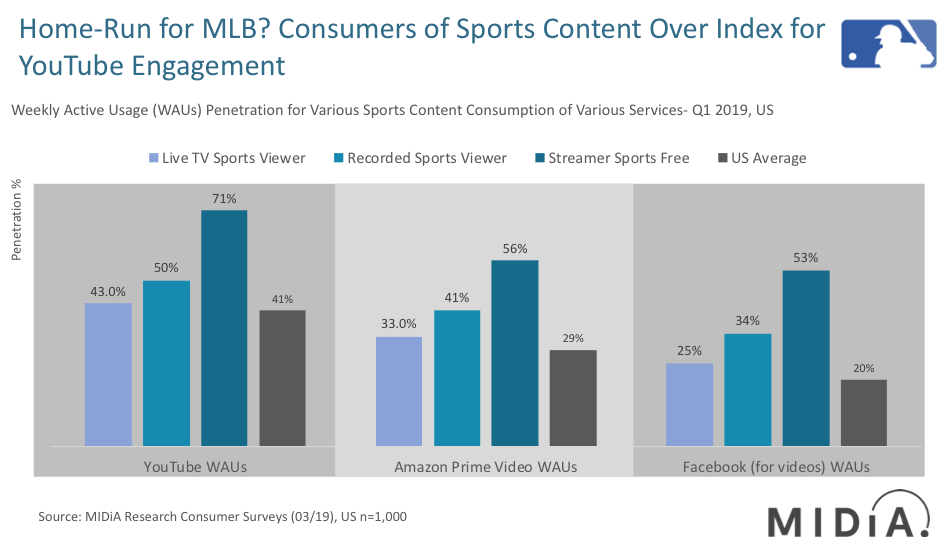 Compared to the average US consumer, YouTube WAUs significantly over-index for not only watching live sports on TV, but also for catching up on recorded sports and streaming sports for free. YouTube users clearly have the appetite for consuming sports, so the MLB has an increased chance of succeeding via YouTube its strategic goal of reaching the digital audiences of tomorrow.
Overcrowded bullpen?
The similarities between cricket and baseball extend further than just that both involve balls being pitched (bowled) at batters, with the length of time these games take to finish becoming a growing concern for engaging younger viewers. With the ever-evolving digital landscape, we have reached peak attention for available time and income to allocate towards consuming content, so a three-hour-plus sporting event is going to require stealing considerable share of consumer attention away from other competing propositions.
The lacklustre opening viewership could be down to fragmentation, with MLB the second most fragmented US major sport in terms of distribution partnerships. The MLB is distributed on FOX, ESPN, TBS, DAZN, Facebook, ESPN+ and now YouTube. Diversifying reach is sensible with the older valuable demographic retaining pay-TV subscriptions, and the younger audiences engaging on social and streaming platforms. Owning multiple subscriptions is declining during this period of peak attention as consumers specialise on a select range of services to engage with and spend on consuming content. Owning three or more digital subscriptions as an activity has declined from a peak of 24% in Q3 2017 in the US down to 18% in Q1 2019 (source: MIDiA Research), highlighting the increasing struggle to win consumer attention.
Consumers will not be pleased with rights holders awarding exclusive rights deals to too many players, as MIDiA saw with the English Premier League rights in the UK. YouTube offering free live streams could come at the detriment to DAZN for instance, which requires consumers paying $19.99 a month, so lean-back baseball fans could be encouraged to cancel this subscription in favour of YouTube to consume MLB content. However, with the length of MLB fixtures, the propensity to allocate 3+ hours to engaging with an MLB game is simply asking too much of current mainstream digital consumers, as the world migrates away from traditional consumption habits. To reach the audiences of tomorrow, the MLB will need to think the unthinkable and re-imagine what is core content proposition actually consists of for time-poor and over-engaged digital natives.
Trending