'If You Ain't First, You're Last': Revenue-Over-Reach Argument Not Refuted for F1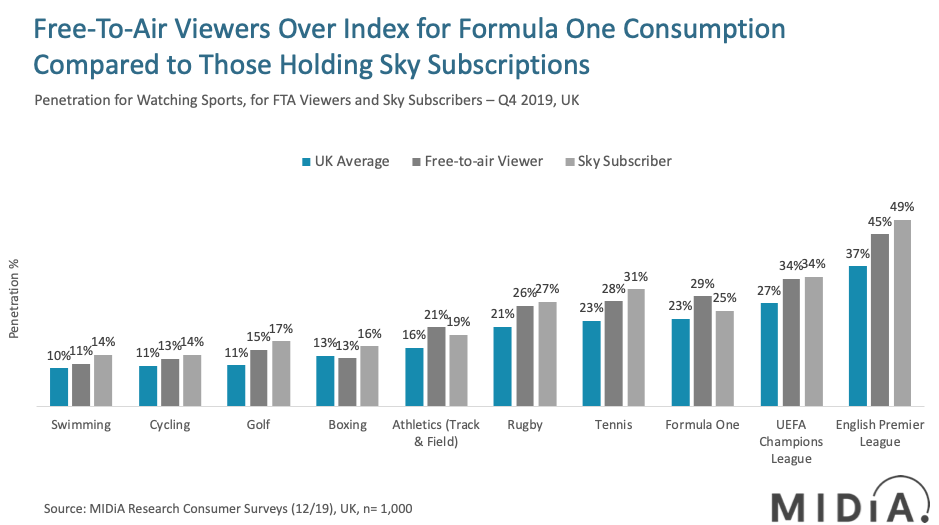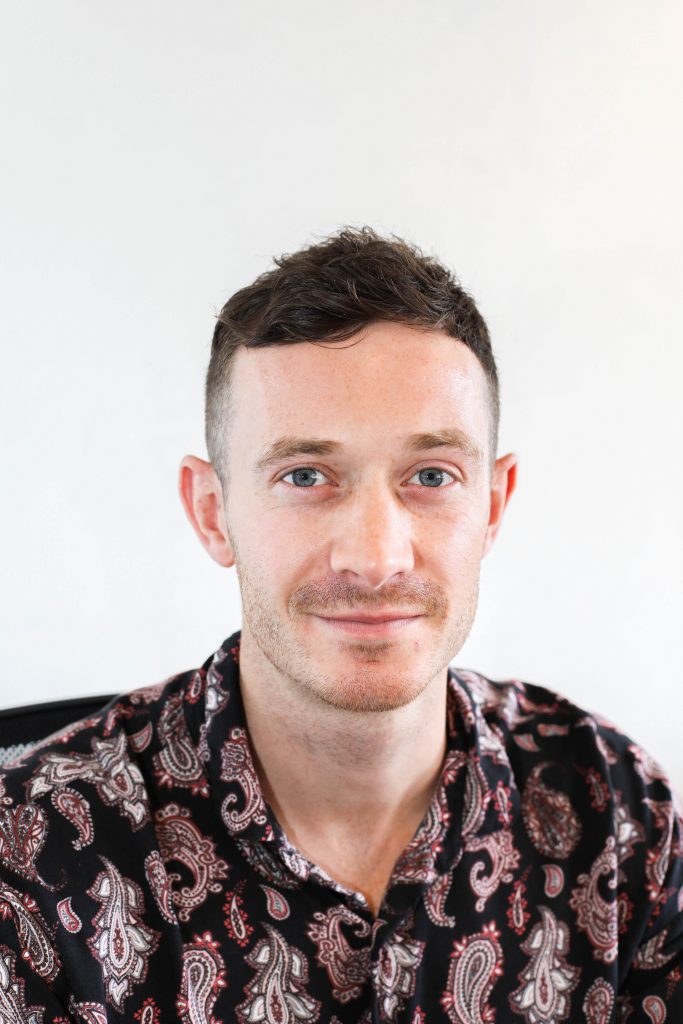 2019 audience figures for Formula One (F1) provide the latest example of a rights holder opting for short-term revenue optimisation over long-term strategic growth, to the detriment of its viewing audience. This follows on from last summers' ICC Cricket World Cup example, which saw its viewing figures on Sky suffer as an ongoing consequence of the 2005 distribution deal, keeping the cricket exclusively on Sky behind a paywall.
Currently, under the latest rights deal, for which Sky paid a reported £120 million ($158 million), the broadcaster has exclusive rights to F1 from 2019-2024, with only the British Grand Prix available on free-to-air (FTA).
According to the somewhat misleading metrics BARB publish, the 2019 F1 season had 54.8 million UK total viewers, with free-to-air broadcaster Channel 4 reportedly drawing 34.7 million viewers in total for the year. For 54.8 million unique viewers to have watched F1 this year (down 13.6% on 2018), 83% of the UK public would have to have consumed F1 content – highlighting the vanity of this multiple-counting approach. This figure appears to reflect a cumulative total (Sky and Channel 4) of the audience each race received, so is in no way to be interpreted as a unique audience figure. This old-fashioned metric provides little to no actionable insight due to its cumulative addition method, when compared to unique fandom and consumption metrics.
Still on the podium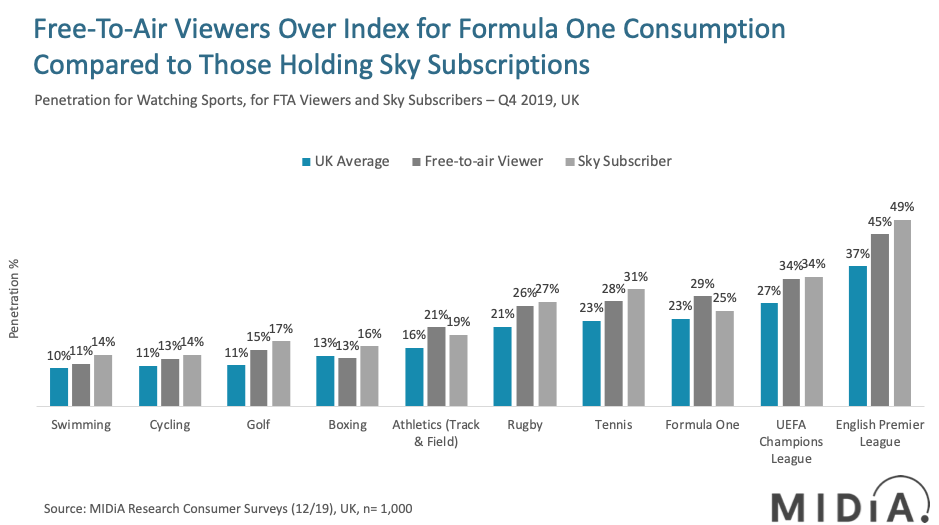 F1 ranks third in the UK in terms of consumption, with 23% of the aged 16+ population watching it monthly (source: MIDiA Research), just behind UEFA Champions League and English Premier League. Interestingly, only Athletics and F1 are watched more as a portion of FTA viewers than Sky subscribers, illustrating the appetite for these rights on FTA. The near absence of these sports on FTA channels is not only damaging the reach of these sports, but also risks the long-term viability due to an ageing fanbase. With 59% of the F1 audience aged over 45, and with an average age of 47 years old, the F1 needs to consider targeting reach over revenue when its next rights cycle comes up for renewal – particularly as only 10% of its current broadcast partner Sky's subscriber base is under 25.
While FTA does not aid in addressing the digitally native younger audience, it does allow for larger target audiences. This was evident from last summer's FIFA Women's World Cup which attracted 11.7 million concurrent viewers to the semi-finals – more than 10 times what the ICC Cricket world cup was getting per match behind Sky's paywall.
F1's global research director Matt Roberts predicted back in December 2018 that the UK audience would grow thanks to the highlights being placed on Channel 4 in a prime time slot later in the day, which has evidently failed to reverse the viewership decline. Sky Sport's head of F1, Scott Young, also believed the highlights would aid in converting fans of highlights into becoming live customers via subscribing to Sky, which has not succeeded.
Multi-Purpose Engine:
In the post-peak attention economy, keeping consumers engaged with one's content is paramount. F1 channel passes (£10) and pure-play streaming sport solutions are not the answer, as consumers prioritise between the services they spend their finite attention and income on. Serving multiple use cases will only become a larger determinant for consumers as the landscape fragments further and they look for better value for money. Rights holders must acknowledge this. F1 ought to consider where untapped and underserved potential fans of the live sport exist. F1 consumers for example are more likely to have an Amazon Prime Video subscription thank a Sky subscription, and Grand Tour fans over index for F1 consumption at 10 percentage points higher than the UK average (source: MIDiA Research). Partnering with Amazon at the next rights cycle (for example) might provide a platform for its fans to remain engaged with F1 and relevant motorsport content outside of scheduled races, while appealing to those who opt against paying for a significantly more expensive monthly Sky subscription.
Trending