How Music Publishers Are Driving a Full Stack Revolution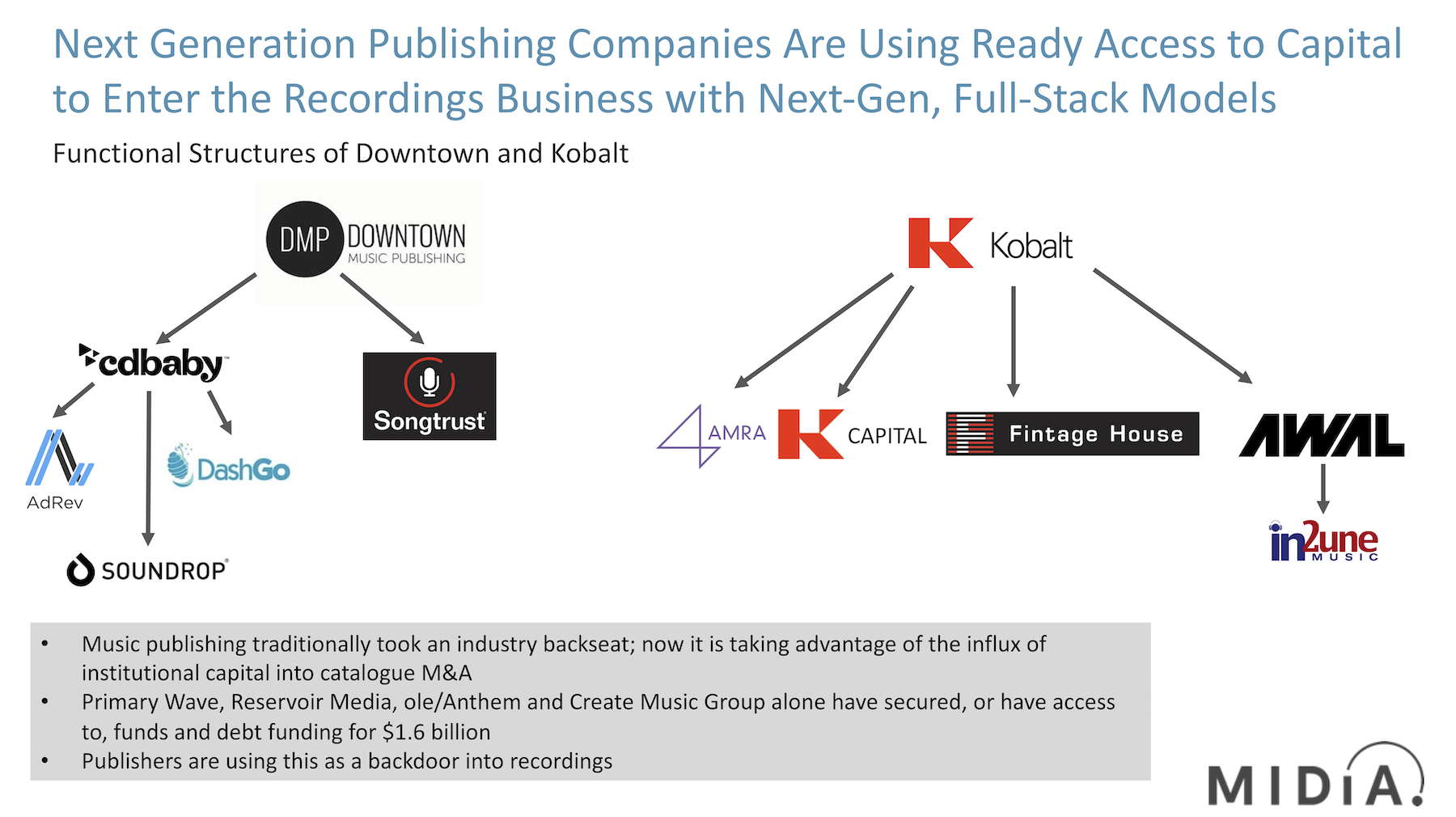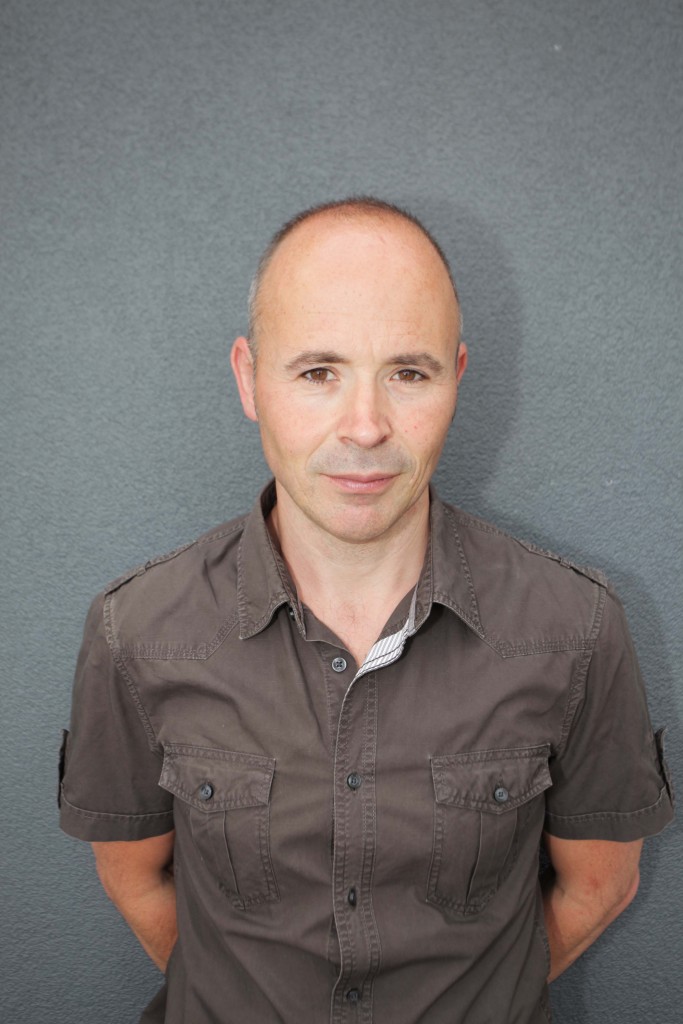 Music publishing catalogues are gaining momentum fast as an asset class for institutional investments, with transactions ranging from large catalogue mergers and acquisitions (M&A) through to investment vehicles for songwriters' shares such as the Hipgnosis Fund and Royalty Exchange. Since 2010 the number of publicly announced music catalogue transactions – across recordings and publishing – totalled $6.5 billion, with a large volume of additional non-disclosed transactions. This growing influx of capital has implications far beyond publishing, however, as ambitious publishers are using the access to debt and investment to reverse into the recordings business.
Streaming the change catalyst
As with so many music market shifts, streaming is the catalyst for these changes. Streaming represented 27% of publisher revenues in 2018 and is set to near 50% by 2026. However, songwriter-related royalties – incorporating publisher and CMO payments – from streaming are less than a third of what labels get. Small-but-important increments such as the US disputed mechanical royalties rate increaseare a) difficult to push through, and b) will not get publishing royalties to parity with label royalties. This means that publishers will underperform compared to labels in the fastest-growing revenue stream. The alternative is a 'if you can't beat them, join them' strategy.
BMG Music Rights and Kobalt set the precedent with label services divisions alongside their publishing businesses, enabling them to play on both sides of the streaming equation. Now a wide range of publishers, both traditional and next generation, are expanding their non-publishing businesses. – from ole/Anthem buying production music companies Jingle Punks and 5 Alarm Music, through Reservoir Music buying Chrysalis Recordsto Downtown buying CDBaby parent AVL. All have the common theme of publishers diversifying away from their core businesses to ensure they compete across a wider strand of the music business value chain.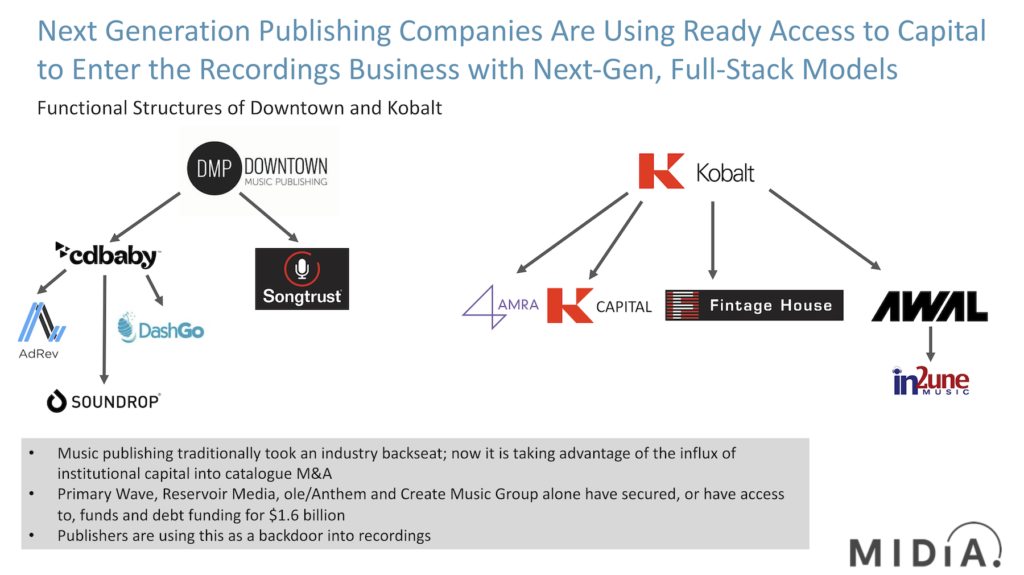 In the traditional music business, it made sense for artists to sign their recordings to one company and their publishing to another. The next phase is the emergence of full-stack music companies that not only combine publishing and recordings but also include other assets to create agile businesses that are primed for the streaming era. Many of these are publishing companies expanding into the recordings business by leveraging the inflow of capital into publishing catalogues to fund diversification. The potential strategic benefits presented by the full-stack approach are well understood by incumbents.
Downtown, Round Hill, Kobalt, ole/Anthem, Primary Wave and Create Group are examples that reflect just how diverse this strategy is, with each business building very different strategic stacks. However, the unifying factor is the access to capital for music publishing companies gives them the ability to build war chests that most record labels could only dream of.
One of the most interesting permutations is the breadth of capabilities that some of these companies are building, as illustrated by the structural maps of Kobalt and Downtown. These are companies that are both built to thrive in the streaming era and to ensure that their creators can monetise across a diverse mix of otherwise fragmented income streams.
Music publishers of all kinds are expanding their reach across the music industry value chain, from artist distribution to library music and in doing so are starting a rebalancing of the music industry value chain. These are exciting times indeed.
This analysis is taken from MIDiA's new report Music Publishing|AFull-Stack Revolution. Clients can click on the link to view the report and its dataset. The 3,000 word report contains details of 45 M&A transactions, annual M&A trends and analysis of the strategies of music publishers.
If you are not yet a MIDiA client and would like to learn more about how to become one and how to access this report then email stephen@midiaresearch.com.
Trending