HBO, Game of Thrones and the Warner Media D2C Dilemma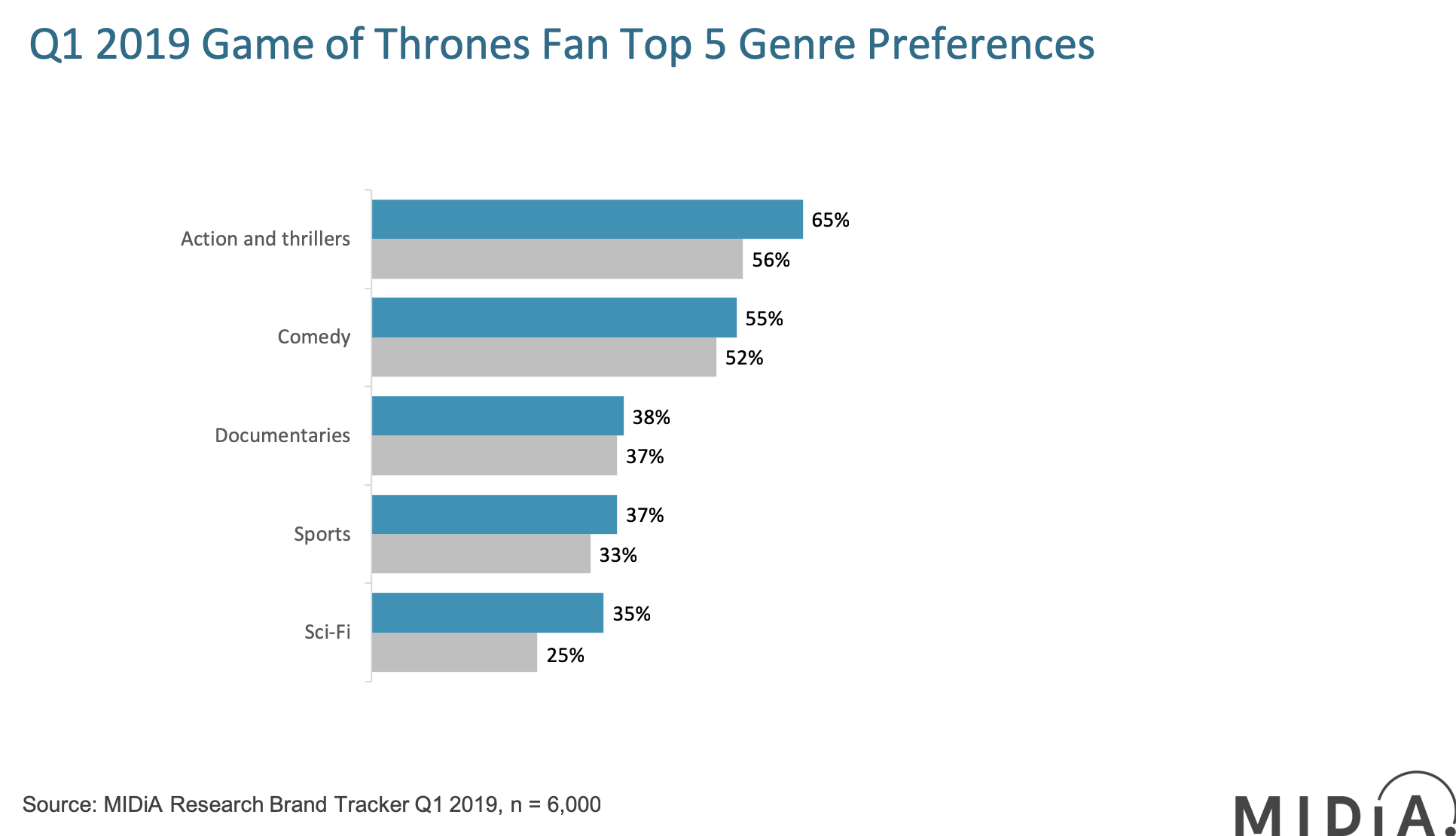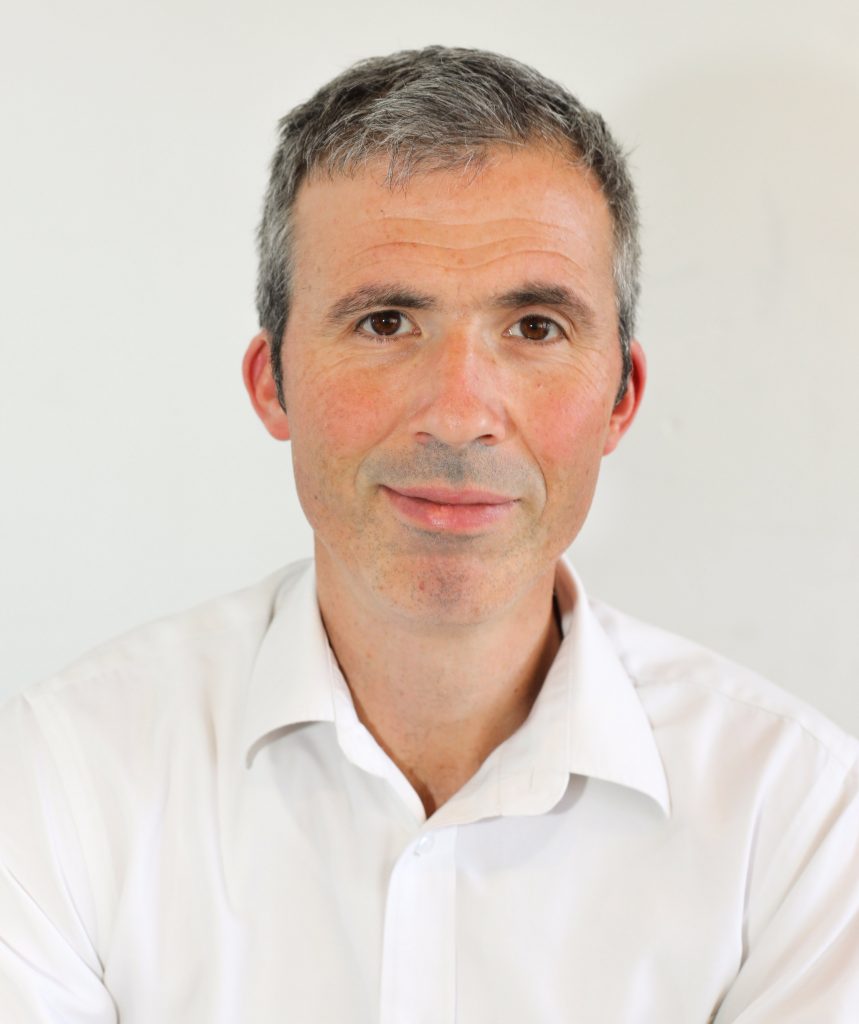 May 2019 saw the controversial final episode of HBO's flagship scripted drama series, Game of Thrones. With the final season alone taking up an estimated quarter of HBO's entire original content budget, Warner Media's premium TV network invested heavily in transforming a niche TV show into the flagship title for the whole network. Such was the cost that on a directly attributable accounting basis GoT lost money for HBO. However, the network's content crown jewel was crucial in securing high margin carriage deals with pay-TV partners, and increasing the number of HBO Now subscription video on demand (SVOD) subscribers by 51% to eight million over the trailing 12 months. With the future for AT&T owned Warner Media now predicated around building a strong direct to consumer (D2C) proposition to compete against Netflix, Disney, and tech majors Amazon and Apple, understanding the consumption habits and preferences of GoT fans in the post GoT world will be crucial in retaining them as streaming subscribers.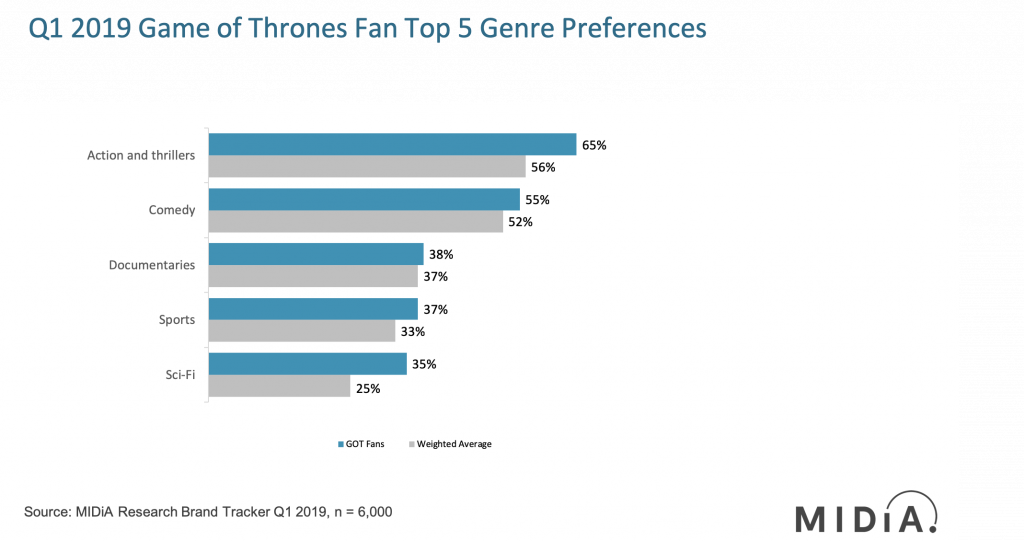 As in the above chart, created from MIDiA Index data highlights, GoT fans have a surprisingly diverse range of genre preferences. In each of the top five genres, GoT fans over-index for engagement. While some are not unsurprising, such as action and thrillers being the number one genre preference, others – such as over half of GoT fans being comedy fans – are less immediately obviously of interest to fans of a fantasy scripted drama. Perhaps the biggest concern for Warner Media lies in the fact that 37% of GoT fans are regular sports consumers. With sports not currently part of the content mix for Warner Media's D2C service, which is due to go into beta testing at year end, a re-evaluation of how it can integrate its existing sports assets on Turner Sports and the Bleacher Report into the new service is arguably now key for differentiation from sports-slacking Netflix and sports-possessing Amazon and Disney (EPSN+ and Hulu).
Understanding the genre engagement of show fans levels the playing field
The catalyst behind the 2019 D2C big bang moment lay in the need for traditional media companies to level the playing field with their streaming competitors. The ability of SVOD players to go directly to the consumer, bypassing traditional pay-TV, allowed them to offer contract-free and dramatically cheaper subscription packages. Additionally, they were able to build up robust datasets of viewership based upon the streams of their subscribers. The result is streaming services are able to gauge engagement of content on their own services far more effectively than the traditional TV industry, and specifically the TV networks who have had to rely upon ratings and operators for a gauge of sentiment for their content. Launching D2Cs solves this dilemma. However, it creates a different set of challenges which the leading SVOD services are currently grappling with: how to benchmark performance against competitors, and how to cut through in the peak attention economy.
Understanding where your flagship show fans are when they are outside your service, and benchmarking how they are consuming content, is now crucial to keeping hold of your streaming subscribers – a challenge which HBO Now is finding itself being drawn into.
Trending