Go Big or Go Home: DAZN Poised to Swoop In on the Crown Jewel of Sporting Rights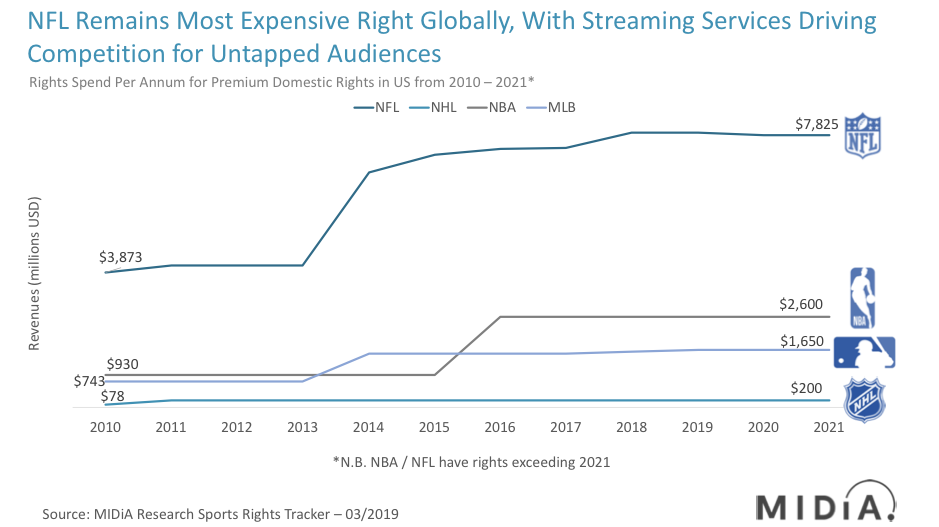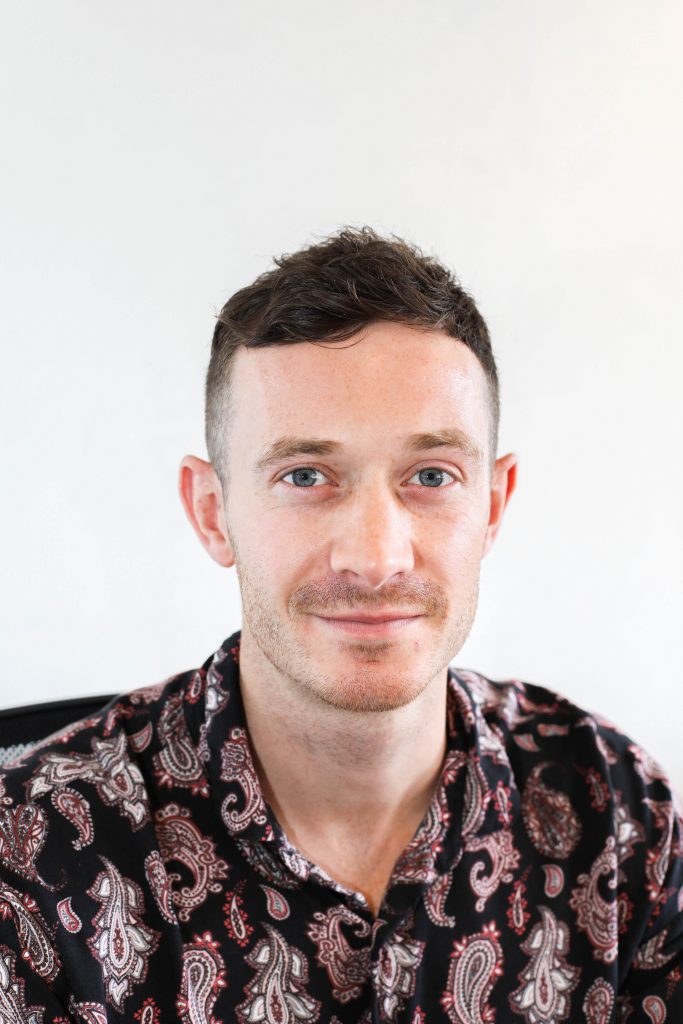 Streaming insurgent DAZN, which now operates in nine markets, has announced its intention to bid for US domestic NFL rights, undoubtedly the crown jewel of sporting rights. Adding the world's most valuable league to its roster would catapult DAZN into the next echelon of sports broadcasters and finally offer a truly compelling proposition for football fans.
DAZN's CEO Simon Denyer informed Bloomberg:
"We're definitely interested in looking at NFL rights... Our Strategy is to be a major player in sports rights via over-the-top (OTT), and the US and Canada have the highest penetration of OTT in the world."
DAZN has already established a relationship with the NFL, having acquired foreign rights for it in Austria, Germany, Japan, Switzerland, Canada and Italy, with domestic live US rights arguably the most lucrative sports asset globally.
This interest comes off the back of the NFL's commissioner Roger Goodell announcing NFL Sunday Ticket needs a digital partner. The NFL is entitled to cut its deal with AT&T short in 2019, should it not want to see the contract out to its current 2022 expiry date. If this happened it would be historic, ending AT&T's 25 year hold over Sunday afternoon broadcasts, with DAZN hungry to swoop in from the wings.
DAZN wants a slice of sports' biggest pie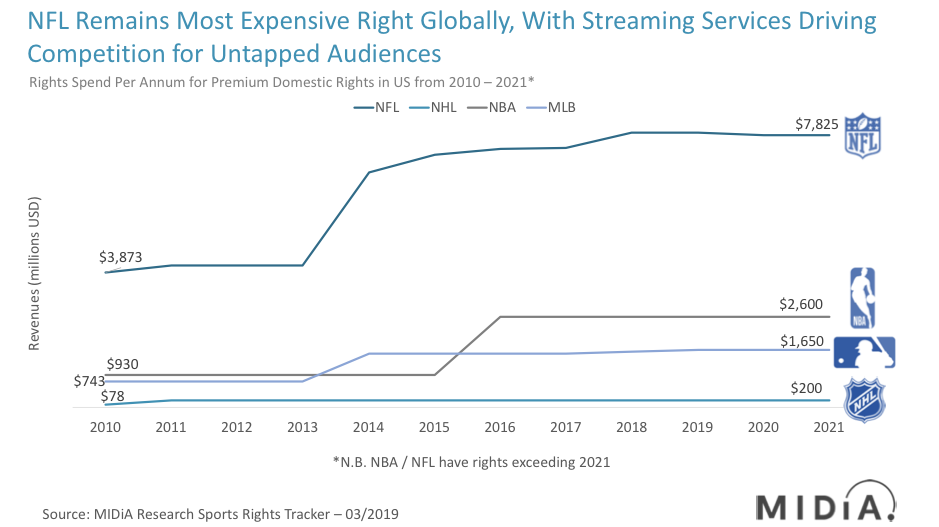 Time is running out for pureplay OTT services to build out compelling value propositions, with the video landscape and general digital economy reaching saturation and now at peak attention. With AppleTV+, Disney+ and other services coming to market in the next 12 months, niche and standalone sports streaming services have a narrow window in which to penetrate these essential markets before losing customers to competing ecosystems altogether.
The main obstacle facing streaming services up until now has been entering the field of play for premium domestic rights, with these largely being tied up in long term deals with traditional broadcasters. 2021 ("D-Day") presents the first major opportunity for streaming services and tech majors to enter bids for domestic rights of the NHL and EPL in the US and UK respectively. DAZN has made strides since first making headlines with its launch in the US with the acquisition of exclusive rights for Matchroom Sports boxing at the cost of $1 billion, acquiring a three-year live digital rights partnership for the MLB starting in March this year. Owning rights to one of the four major US sports has propelled DAZN's proposition into the mainstream, and if it were to secure the NFL Sunday Ticket digital package it would be developing a truly substitutive proposition for US sports fans.
Premium rights will not solve overextension
Sports-centric streaming subscriptions are not mainstream by nature, offering only the sixth most preferred content genre for US consumers (source: MIDiA Research). Without securing the exclusive premium domestic rights, the addressable audience shrinks.
Couple this with the fact that 64.6% of US consumers in Q1 2019 were not willing to pay $9.99 (source: MIDiA Research Q1 2019 survey data) for a streaming subscription which grants access to live coverage of one sport of their choosing, and DAZN finds itself in a difficult strategic situation. With DAZN doubling its monthly price point to $19.99 in March, whether DAZN can acquire the digital rights for the NFL has now become secondary to whether they can grow a sufficient subscriber base at this price point to recover what will be a substantial increased cost of investment in their growing portfolio of sports rights.
Using the $300 million DAZN spent to acquire the MLB digital rights, and the 2018 differential (4.7 multiple) in annual domestic rights revenue between the NFL ($7.83 billion) and the MLB ($1.7 billion), the NFL's Sunday Ticket digital rights will likely cost in the region of $1.4 billion for a three year deal. DAZN needs the NFL to appeal to the US mainstream pay-TV subscriber – however, this accelerates the need to increase subscription pricing to cover the increased rights investment, therefore making growing its user base more challenging.
DAZN announced in May it had four million global subscribers, highlighting the difficulties pureplay sports streaming (and OTT) services have to reach a wide enough audience to remove the niche tag. Rights holders will not want to offer exclusivity to services harbouring small or diminishing subscriber numbers, with awarding future rights bids coming down to three key principles: 1) optimal capital available, 2) flexible and proven tech stack, and 3)
enhanced social and audience reach. DAZN, as a consequence of failing to recoup its investment outlays through subscription revenues, has had to pivot away from a traditional ad-free subscription model towards incorporating adverts behind its paywall.
The financial viability of OTT services has been largely overlooked until now. Netflix, the largest direct to consumer (D2C) proposition in the market, is struggling to find financial sustainability. The company more than doubled its content spend from $4.6 billion in 2015 to $10 billion in 2018, but saw average hours per subscriber decline in the US and fall 32% internationally, proving that spending more on content does not guarantee increased engagement. Niche D2C services are unlikely to be sustainable in the near term due to the initial costs involved with the tech build and subsequent ongoing infrastructure cost of serving its users, even before factoring in being able to attract a sufficient subscriber base to recoup those initial content investments. Rights holders will have to factor this in when deciding which partners to choose without mentioning the latency issues streaming players have yet to overcome, which the NFL alluded had to be addressed.
Time for a Hail Mary
With the market reaching saturation, and consumers honing in on select services to consume content (evident from a decline in US consumers owning three or more digital subscriptions, falling from a peak of 24% in Q3 2017 down to 18% in Q1 2019), D2C sports offerings are going to find it increasingly difficult to avoid overextension, as competition for attention and digital income maxes out. Niche sports D2C services therefore have little hope of fighting off other competing services for subscription dollars without being part of a much bigger subscriber ecosystem such as Disney's ESPN+, especially if these services do not own premium (and exclusive) content by 2021. The future for standalone streaming services will increasingly be decided by what the leagues and the tech majors do to consolidate sports engagement at the start of the next decade.
Trending