European Professional Club Rugby goes OTT, pressing business over the needs of fans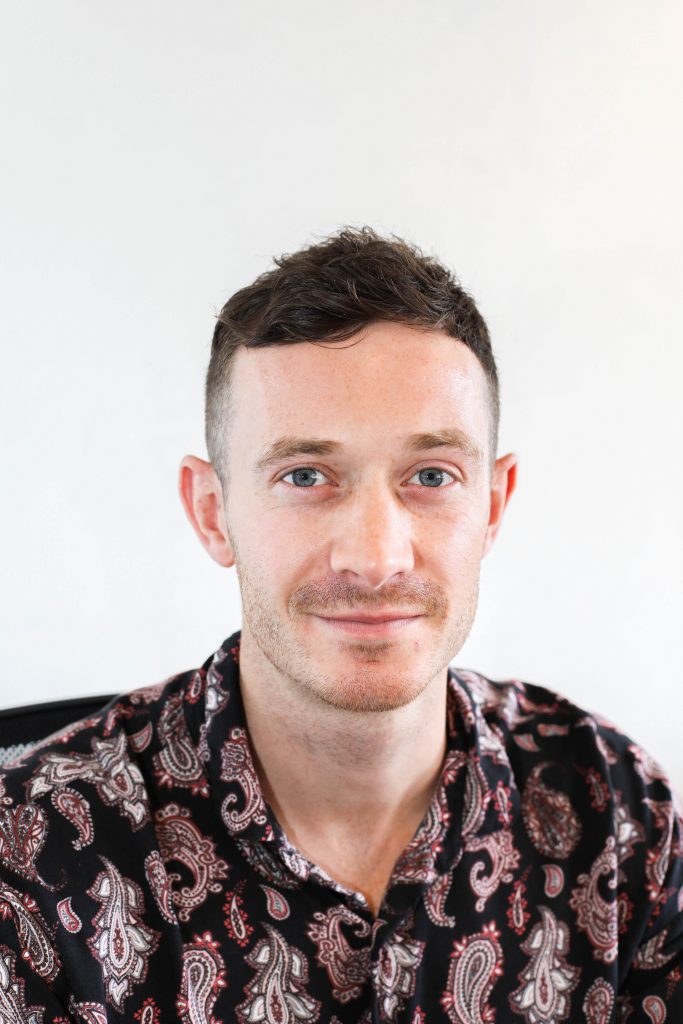 Last Friday, European Professional Club Rugby (EPCR), the Heineken Champions Cup and the European Rugby Challenge Cup's governing body announced the launch of its global over-the-top (OTT) streaming service, epcrugby.tv. The new service is intended to boost Rugby Union's worldwide exposure, providing fans with a one-stop shop for European content by providing better access than ever before.
The platform will be powered by streaming solutions provider StreamAMG. The direct-to-consumer (D2C) proposition shows matches from both tournaments live in territories where broadcast deals have yet to be brokered, starting last weekend with 2019/2020's cup quarter finals.
Currently European rugby's governing body has existing rights deals in several key territories, including with France Télévision (free-to-air (FTA)) and BeIN Sports in France, BT Sport and Channel 4 (FTA) in the UK among others. The EPCR also has a four-year deal with streaming service DAZN for exclusive rights across Canada, Germany, Switzerland, Austria, Italy and Japan.
On epcrugby.tv, fans can purchase matches individually for €2.99 for the premium competition Heineken Champions Cup and €1.99 for the Challenge Cup, or as a package for the remainder of the current tournaments, which conclude in October.
Changing of the guard: pre-existing rights deals can cap addressable audience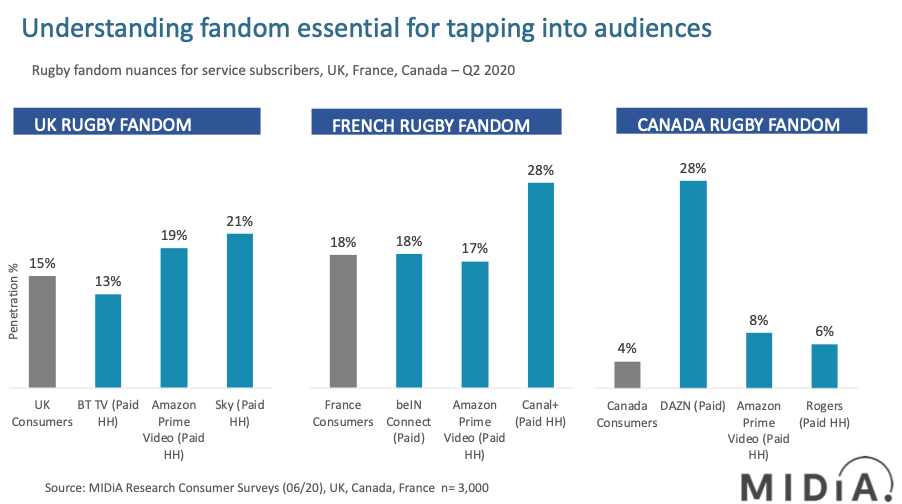 Currently in the key markets where EPCR has pre-existing deals, reaching audiences is heavily dependent on fans holding subscriptions to those established services. Gaining a better understanding of where to serve fans content is fundamental to future-proof the financial sustainability of the Rugby Union broadcast product, while also potentially unearthing lucrative untapped opportunities. For example, in the UK the home of broadcast Rugby Union is currently BT TV. However, BT TV subscriber households under index for rugby fandom, compared to previous rights owner Sky, with 13% penetration compared to 21% respectively in Q2 2020 (source: MIDiA Research).
Gallagher Premiership Rugby provides another case study to follow, demonstrating how significant the COVID-19 impact on rights holders can be with the rights holder facing a substantial drop in the value of its broadcast rights. With Sky and BT unwilling to meet lofty valuations, Gallagher Premiership Rugby needs to adapt to changes in consumption habits and prioritise digital engagement to untap larger unaddressed audiences. A possible preferred distribution partner could be tech major Amazon. Amazon Prime Video subscriber households show a higher propensity for Rugby fandom. This supports the case for innovating and exploring partnering with the tech major to reach a larger fan base within its ecosystem. Amazon has increased its movement into live sports, securing the rights for the upcoming Autumn Nations Cup, highlighting a potential avenue for where to allocate these premium domestic rugby rights in future rights cycles.
Will an EPCR streaming service risk devaluing domestic rights? 
EPCR is not the only rights holder launching an OTT streaming proposition, with the FIH's ad-supported video on-demand (AVOD) service launch of Watch.Hockey last week. Proactively choosing an AVOD monetisation model has enabled the FIH to introduce a new service to gauge appetite and to avoid potential users adding to their existing subscriptions costs. The EPCR decision to add another subscription video on-demand (SVOD) service to an already fragmented digital landscape puts further pressure on consumers. Deciding where to allocate finite income during a period of economic uncertainty and peak attention is now a real issue for consumers. Serving only one use-case with European rugby content will place epcr.tv as an additive service and therefore a primary candidate for churn, especially if it does not own the rights in the key domestic markets. The risk of removing exclusivity within its domestic markets also presents a risk, this time the value of its rights deals, which the rumoured English Premier League dedicated streaming service highlighted.
Only 16% of UK consumers in Q2 2020 own three or more digital subscriptions, so the proposition of adding another subscription to existing SVOD stacks is a difficult sell (source: MIDiA Research). Considering that only 5% of UK consumers were willing to pay for a streaming sports subscription that provides live coverage for only one specific sport, it reduces the addressable audience even further for a one-sport streaming proposition (source: MIDIA Research 2019 annual survey). Maintaining broadcast distribution deals in key territories offers higher revenues in the short term but as seen with cricket's long-term pay-TV distribution in the UK, can lead to substantially narrowing the addressable audience.
COVID-19 exposed the need for rights holders to prioritise building digital engagement beyond the pureplay broadcasting of live events. Paywalling content on a standalone proposition during a period of economic uncertainty could be a risky strategy going forward. Diversifying from its legacy traditional broadcast model is a sensible strategy in an era that will be predicated on a service's ability to entice future (primarily digital native) fans. However, without competitive pricing and additional premium content to improve the user experience, the addressable audience will be drastically capped in the near term. Addressing these challenges will determine the likely future success for the rugby rights holder's OTT platform which is currently noticeably short of premium appealing content.
Trending