Demographic cliff: Is gaming sports' biggest problem?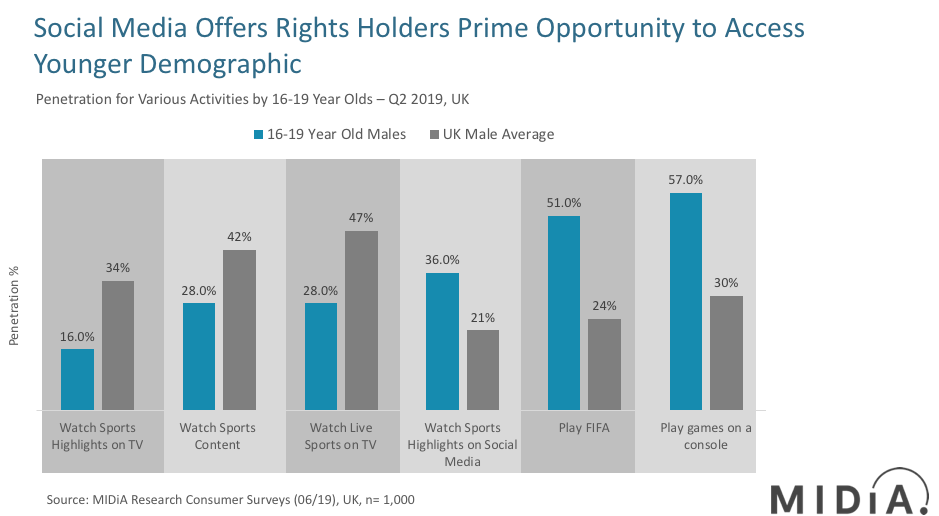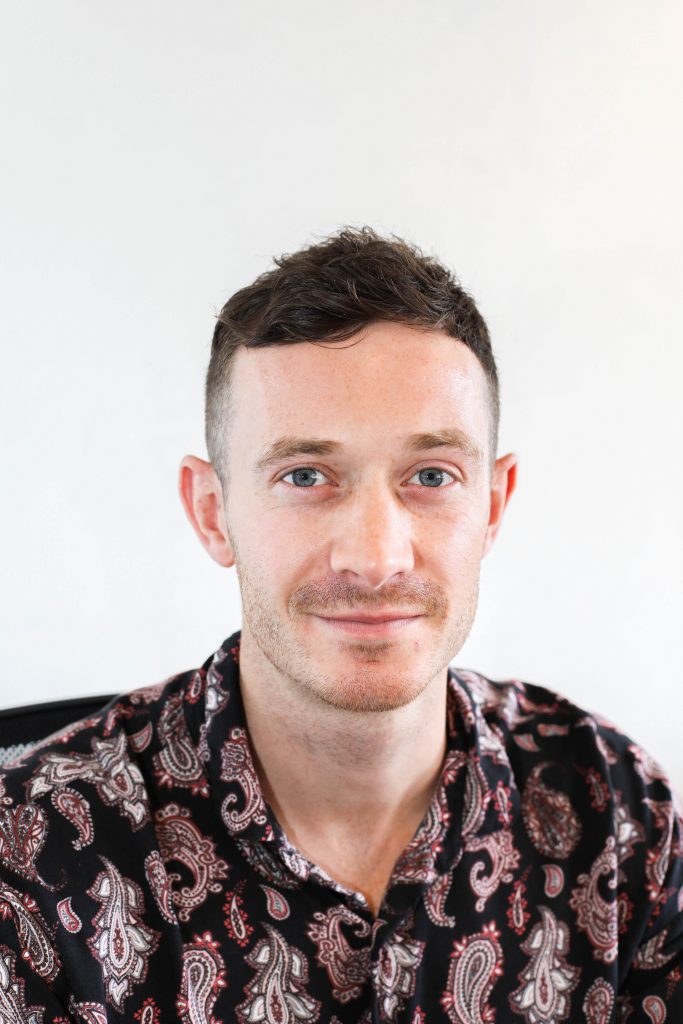 Is the peaking attention economy the underlying cause for the decline in sports consumption from the younger demographic, or is it the mediums through which rights holders are distributing sports content? MIDiA argues… both.
Last month's victory for 16-year-old Kyle ''Bugha'' Giersdorf at the Fortnite World Championship showcased the growing and very real e-sports phenomenon, earning Kyle a rather impressive $3 million (more than Tiger Wood's US Masters victory) – but also served as a stark reminder of the demographic cliff facing the sports business.
Sports appeal dwindling for younger audiences:
It is a double whammy for sporting bodies. Younger audiences are showing a higher propensity to spend their finite attention on games compared to consuming sports, but also the audience watching sports on TV is aging, and sports are simply not being delivered to younger audiences en masse.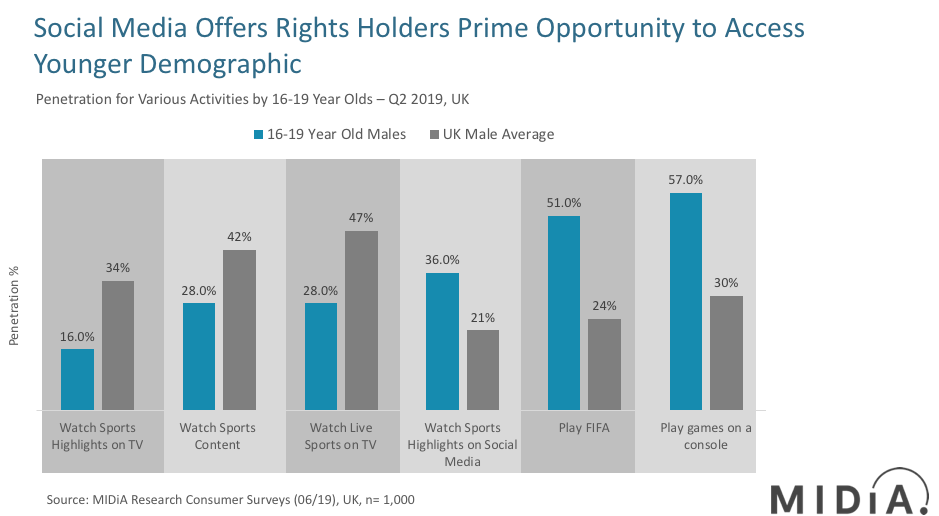 It is not only pay-TV that is facing a demographic cliff for younger audiences, with 16-24 year olds accounting for only 11% of those with pay-TV subscriptions (source: MIDiA Research), but also sports in general. The CEO of UEFA Champions League champions Liverpool, Peter Moore, recently referenced the peaking attention economy as a fear for losing younger audiences to Fortnite – with 90-minute matches increasingly failing to resonate with the demographic aged 16-24, accounting for just 11% of those who consume live sports on TV.
Sports are rapidly losing future fans to e-sports and gaming in general, with 16-19-year-old males almost twice as likely to play games on a console compared to the UK male average, and three times as likely to play Fortnite than consume live sports on TV. 16-19-year-old males under index for all sports video consumption on linear platforms, displaying 18 points lower penetration for watching sports highlights on TV than the average UK male.
Opportunities with e-sports
One potential avenue for sports to avoid falling off the demographic cliff edge is converting fans of e-sports to live sports fans. The NBA's recent example of forming the NBA 2K League through its partnership with Take Two Interactive could be the catalyst for enticing gaming fans of the virtual league into the real life ecosystem. The NBA have gone a step further in China, awarding exclusive distribution rights to tech conglomerate Tencent. Tencent already has exclusive distribution of live NBA games in China on its social media platforms, including WeChat with its 1.1 billion monthly active users (MAUs).
There is an opportunity for soccer in the UK to do the same, with 51% of 16-19-year-old males playing FIFA compared to 24% for males on the whole. Delivering this content straight to the platforms where the younger audiences exist is paramount. The recent broadcast of the FIFA eWorld Cup on Sky will simply not address this, with only 25% of 16-19 year olds in the UK reporting having access to Sky in their households.
Digital partnerships key to future-proofing sports fanbases
Rights holders need to take notice of these innovative initiatives attempting to target the younger demographic on digital mediums, with the MLB's recent streaming debut for live games on YouTube another prime example. Consumers of sports content over index for YouTube engagement. Additionally, 32% of YouTube US daily-active-users (DAUs) are aged 16-24 (source: MIDiA Research), so the MLB is not only targeting digital sports fans for increasing engagement but also taking content to the platforms where the younger audiences exist. It has never been so important to realise where age groups exist in the peaking attention economy.
The silver lining for sporting bodies is that social media platforms offer an avenue to reach the sports fans of the future, with 16-19 year old males reporting 15% higher than UK males for watching sports highlights on social media platforms. This justified Sky Sports' distribution of the FIFA eWorld Cup on its official YouTube channel. Opening up digital options for premium domestic rights is essential for future-proofing fanbases, something the English Premier League (EPL) has largely avoided domestically.
Regardless of whether sporting bodies address the issue of targeting revenue over reach when awarding rights for the English Premier League and UEFA Champions League domestically in the UK for future rights cycles, this much is true:

The peaking attention economy and linear TV's current dominance over domestic sports content distribution are the key drivers of sports' declining younger audience.
Trending