DAZN financials: Growth reliant on premium domestic rights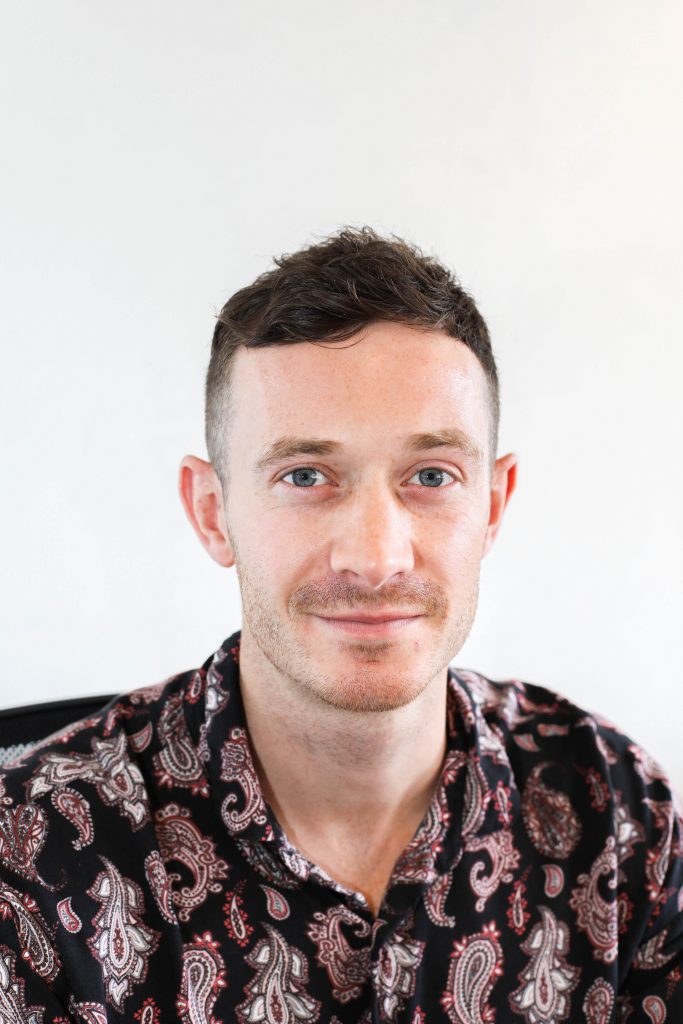 DAZN's 2018 financials highlighted the difficulty of encouraging a transition to consume live sports digitally with its existing portfolio of rights. DAZN has not yet released its 2019 financials, but MIDiA has constructed a robust and accurate subscriber and revenue model for the sport-centric streaming service which will be published in full as part of our DAZN Financials and Subscriber Deep Dive report.
Domestic rights acquisition drives 121% annual revenue growth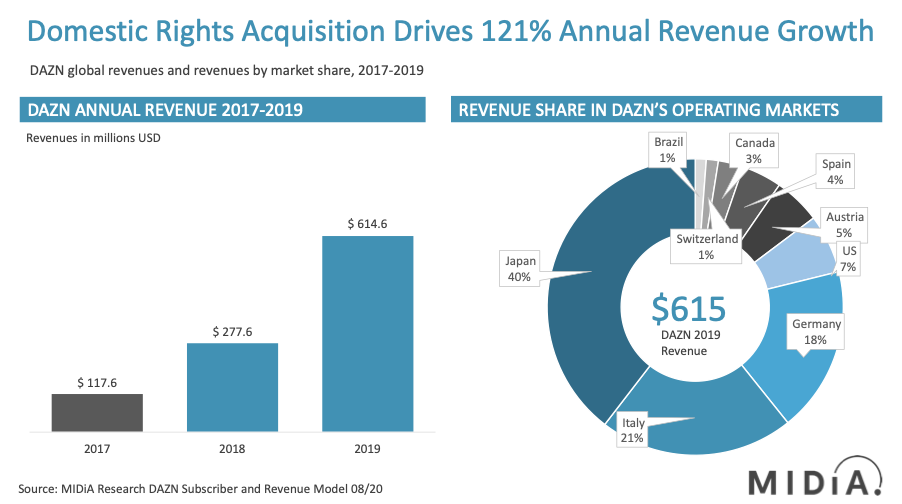 DAZN experienced strong growth in 2019 with revenues increasing 121% year-on-year (YoY) from $277.6 million in 2018 to $614.6 million. Contributing to this growth was the successful launch of DAZN in its eighth and ninth markets, with Spain and Brazil in February and May 2019 respectively.
DAZN's leading market, Japan, accounts for the largest share of company revenues, with $243.0 million representing 40% of the total – although down four percent of revenue contribution share from 2017.
Successful market penetration is dependent on deploying domestic rights
DAZN's entry into the highly competitive and fragmented US video landscape has been well documented, disrupting the market with a fight-centric proposition with its September 2018 launch. DAZN's US operations accounted for just 10% of DAZN's eight million reported subscribers in November 2019, highlighting the challenge for its US operation in growing adoption with a proposition devoid of domestic content (outside of a minor MLB package). DAZN subsequently doubled its price point to $19.99, as well as incorporating advertising behind its paywall, in a pivot to mitigate its outlay from building its fight-sport portfolio of rights. Based on its 2019 average revenue per user (ARPU) figure, and our modelled implied subscriber months, DAZN's US operation has essentially become a relatively inexpensive pay-per-view (PPV) platform for boxing. Its exclusive deal for Matchroom Sports (Anthony Joshua), Canelo Alvarez and Genady Golovkin exhibitions, and monthly subscription model allows for opt-in and opt-out consumption. Overall, DAZN's US business grew 387% in YoY revenue terms, accounting for 6.4% of total company revenues in 2019. DAZN's strategic moves in other markets follows the acknowledgement that going after the crown jewel of US sports in the NFL would transcend its current US offering, given that 47% of US consumers viewed American Football in Q1 2020 (source: MIDiA Research).
2020 outlook
COVID-19 starved sports fans and distributors of content, significantly weakening the value propositions these subscription services could provide to generate engagement and – more importantly – customer retention. The pandemic exposed pure-play sports streaming services and pay-TV operators as substitutive propositions and primary churn candidates during a global pandemic. The importance of harbouring premium domestic rights is paramount, following sports' return given the reduced spectator-free footage, thus increasing the importance of owning the most sought-after rights to generate pre-COVID levels of interaction. DAZN is strategically targeting domestic premium content to enhance its offering.
2020 will be a year of consolidation for DAZN, shoring up its operations and cost saving where appropriate as subscriber numbers regress off the back of live sports' hiatus and the subsequent economic downturn.
These figures are the very top-level findings from MIDiA Research's DAZN Revenue and Subscriber Model, covering DAZN's nine markets of operation. This data will be available for MIDiA clients in the coming weeks. If you are not yet a MIDiA client and would like to learn more about this dataset and accompanying report, please email alistair@midiaresearch.com.
Alternatively to find out how to become a MIDiA Research client click here.
Trending